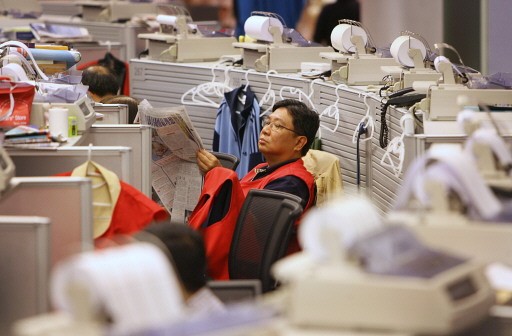 A trader reads the paper at the stock exchange in Hong Kong-China 20 June 2007.(AFP Photo)
Shares and funds have replaced banks as the top investment option for people living in China's cities, thanks to the stock market boom and low savings deposits interest rates, the central bank said.
A record 40.2 percent of respondents in the latest three-monthly survey by the bank ticked buying stocks and funds as the most lucrative way to investment.
The figure was up 9.9 percentage points from the first quarter, according to the survey, which covered 20,000 residents in 50 cities and was posted on the bank's website on Wednesday.
With inflation on the rise and deposit interest rates low, residents who most favoured bank savings dropped four percentage points from the first quarter to 26.3 percent, hitting a six-year low.
China's inflation rate jumped to 3.4 percent in May, topping the benchmark one-year bank deposit rate of 3.06 that was just lifted by 0.27 percentage point in May.
Meanwhile, China's stock market has surged 56 percent this year after climbing 130 percent boom in 2006.
Chinese people have traditionally parked most of their money in banks, with 16.2 trillion yuan (2.1 trillion dollars) deposited in savings accounts at the end of last year.
People across China pulled out 278.4 billion yuan out of banks in May, according to a separate report by the central bank last week.