Japanese electronics giant Sharp said Monday it will begin selling 3D televisions before the summer, as competition in the sector intensifies.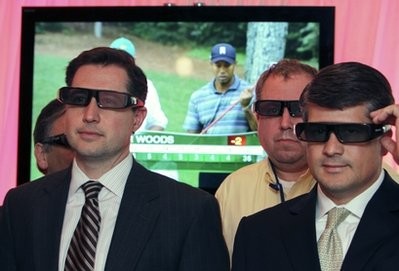 In this photo released by Comcast, Mark Swan, left, Paul Hockenbery, center, and Topper Ray watch the first round of the Masters golf tournament in 3D on Thursday, April 8, 2010, at the Comcast Center in Philadelphia. (AFP Photo)
"We will unveil our 3D Aquos models in May, and launch them before the summer shopping season," executive vice president Masafumi Matsumoto told a press conference.
In doing so Sharp will join rivals Samsung Electronics and Sony Corp. in a sector the industry hopes will help revive profits, as strong competition and falling prices force a reevaluation of the liquid crystal display (LCD) business.
Sharp says its new sets will incorporate the world's first four primary-colour 3D displays, adding a yellow component to the traditional standard of red, green and blue to create brighter and more defined images.
As with existing 3D TVs, the Sharp sets will require the viewer to wear special glasses, the company said.
An exact launch date is yet to be decided, but the company said it will begin selling the new models in time for the summer bonus season at Japanese companies, which usually starts in June, before looking to the US and Europe.
It will soon start mass-producing large 3D LCD panels, but is yet to decide on whether to supply them to other TV makers, it added.
Earlier this month Sharp unveiled an LCD touchscreen that shows 3D images without requiring special glasses, for potential use in mobile phones, digital cameras, digital photo frames and games consoles.
The company sold around 10 million LCD TVs worldwide between April 2009 and March 2010.