KUALA LUMPUR, Nov 24, 2008 (AFP) - Ship owners were Monday urged to contribute to a fund for ensuring safety on the strategic Malacca Straits, warning that an accident could cripple international trade.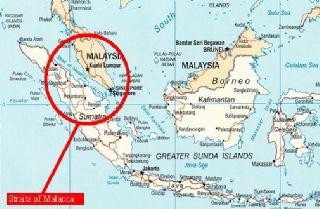 Malacca Straits
The Nippon Foundation, a Tokyo-based group which has shouldered a third of the cost of maintaining navigational aides on the narrow waterway, said that ship owners must ease the burden on border nations.
"I appeal to ship owners to contribute to a fund that will be managed by the three littoral states -- Malaysia, Indonesia and Singapore," foundation chairman Yohei Sasakawa told a regional maritime conference.
"As more ships pass through, the burden of this responsibility is becoming too great to be borne by the littoral states alone."
With rampant piracy off Somalia already threatening the trade route through the Suez Canal, Sasakawa said that the passage of more than 94,000 ships annually through the Malacca Straits could be imperiled by safety hazards.
"If an accident happens, ships may not be able to use the straits. This will force ships to use other routes which may be longer or more dangerous which will then increase insurance charges and harm the shipping industry," he said.
"The disruption of oil and gas transport will affect millions of people in energy importing countries."
Half of the world's oil shipments pass through the strategic Malacca Straits, and it is a critical lifeline for the Japanese economy.
Sasakawa said ship owners have been reluctant to contribute to the fund, saying international waterways should be free and that they would have to increase freight charges if they were to contribute.
"I appeal to them to change their attitude. We need to prevent an accident from happening," he said.
Sasakawa said the fund proposed an 8.0 million dollar budget for 2009, with his foundation providing 2.5 million dollars, Greece and a Middle East navigation service contributing 1.0 million dollars each, and Korea, the United Arab Emirates, and the Japanese Shipowners Association also chipping in.
The contributions add up to 5.4 million dollars, leaving a shortfall of 2.6 million dollars which user nations and ship owners are being called on to meet.
Spyros Polemis, chairman of the International Chamber of Shipping, which represents merchant shippers, said the industry was "indebted" to the Nippon Foundation and realized that the burden must be shared.
"I want to assure the three littoral governments of the industry's intention to play a role in the enhancement of navigational safety and environmental protection in the region," he told the conference.
"The ultimate beneficiaries of the safe and efficient passage of ships through the straits are the countries whose imports and exports depend on this vital trade route."
The fund, which also covers the Straits of Singapore, would maintain navigational aides that include lighthouses, beacons, and buoys to guide ships through the congested waterway and prevent collisions.