ORLANDO, Florida (AFP) – Tiger Woods faced more fallout from his sex scandal Sunday as stunned rivals said they looked forward to his return after an indefinite break in his golfing career and corporate sponsors pondered their future cooperation with the billionaire athlete.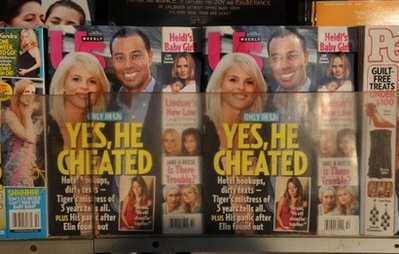 Copies of Us Weekly magazine featuring the story on Tiger Woods and an interview with alleged mistress Jaimee Grubbs (AFP file)
Woods announced Friday he was taking a hiatus from professional golf and admitted he had cheated on wife Elin after reports that 10 women had claimed to have had sexual relationships with the 14-time major champion.
"It's a shock. It was most definitely a shock to everybody to hear what has been going on," third-ranked US golfer Steve Stricker said. "Hopefully he gets it straight. Staying away is a great thing to get his family life in order."
World number one Woods, who has a son and daughter with Elin, said he wanted to work on being a better husband, father and person.
Australian golf legend Greg Norman said those should be his priorities for now.
"It's not a good position to be in," Norman said. "He has to sort out his private life first and foremost. There's a lot of heartache for him. There may be some fallout. There are individuals who may have to change.
"The important thing is he gets it right and does what he has to do to get himself back out on the golf course. Tiger will come out of this."
A major concern is how a prolonged absence by the game's greatest player will hit the sport. Television viewership was down 50 percent when he was out with a knee injury and a tough economy has already cut into golf sponsorships.
"The game of golf is bigger than anybody," Norman said. "Golf is hurt without him in the field but the game will go on."
Woods sponsor Gillette announced Saturday it would phase him out of advertisements while he takes a break from golf, calling it a supportive move.
"As Tiger takes a break from the public eye, we will support his desire for privacy by limiting his role in our marketing programs," a Gillette statement said without announcing a timetable for the resumption of use of Woods' image.
Accenture took down an image of Woods on its website and AT&T, which backs the PGA event operated by Woods's foundation, said in a statement, "We are presently evaluating our ongoing relationship with him."
However, Nike, which is Woods' largest corporate partner with a deal estimated at 40 million dollars a year, stood by him. "He is the best golfer in the world and one of the greatest athletes of his era," Nike spokeswoman Beth Gast said.
Women such as a show club hostess, pancake restaurant waitress, porn star and cocktail waitress have alleged affairs with Woods, whose squeaky-clean image was shattered, raising concerns of sponsors pulling away from golf.
"I am deeply aware of the disappointment and hurt that my infidelity has caused to so many people, most of all my wife and children. I want to say again to everyone that I am profoundly sorry and that I ask forgiveness," Woods said.
The Woods scandal also makes fans and sponsors take a second look at all golfers.
"We're still a very morally sound sport," US veteran Jerry Kelly said. "The corporate world, they love Tiger and they love attaching to that superstar athlete, but there's a lot to be gained from the PGA."
Woods became a billionaire mainly through endorsements but his TV allure, as a Superman-like player rarely overtaken when leading late, brought sponsors and huge prize money to the PGA, already hit by cuts due to the struggling economy.Related article: Tiger Woods facts
"We're definitely going to miss him," Stricker said. "We all know what he brings when he comes to an event -- increased awareness and increased crowds."
Stricker pondered the now-shattered notion so many Woods fans had that he was as impressive out of the spotlight as he was when winning golf titles.
"It's unfair how we have built him up over the years," Stricker said. "On the course he's one of a kind. No one really knows what he was like off the course. He's a tough guy to get around. He has his own little group.
"Hopefully he gets his priorities straight and gets back soon. There's no doubt we need him. We need him out here because of sponsorships and just the awareness of our tour in general."
US PGA veteran Brad Faxon agreed that Woods is vital to the PGA's future.
"We're all hoping Tiger comes back and he fixes everything he needs to fix because we need him out here," Faxon said. "He's such a dynamic personality and I know (people) want to have him out on tour as soon as we can get him."