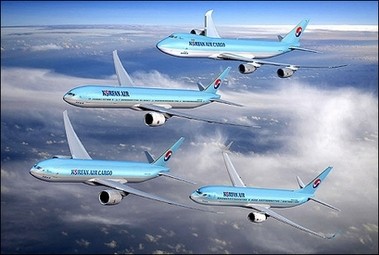 This computer-enhanced image released by Korean Air shows (from top to bottom) Boeing 747-8F, 777-300ER, 777-200F and a 737-900ER passenger jet.
Singapore Airlines has taken delivery of its first two Boeing 777-300ER (extended range) planes from an order placed with the US manufacturer two years ago, the carrier said Wednesday.
SIA ordered 19 B777-300ERs in August 2004 and the first six are to be delivered by year's end, the airline said in a statement.
The new planes will enter commercial service next month, flying to Paris, Hong Kong, Milan and Barcelona.
The 777-300ER's arrive as Singapore Airlines awaits delivery of its first double-decker A380 superjumbo from Boeing rival Airbus.
SIA is set to be the first carrier to fly the A380 but delays in delivery have progressively pushed back the plane's arrival from early this year until October of next year.
Singapore Airlines has ordered 19 of the Airbus superjumbos.