SINGAPORE, Jan 3, 2011 (AFP) - Singapore's economy picked up speed in the the fourth quarter of 2010, expanding by an annual 12.5 percent, the government said Monday.
The economy grew 14.7 percent in 2010, the Ministry of Trade and Industry (MTI) said in a statement, as the city-state rebounded strongly from a 1.3 percent contraction the previous year.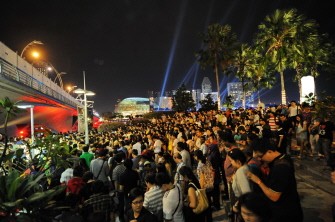 AFP - People make their way out of the waterfront after observing the fireworks display to welcome the New Year in Singapore on January 1, 2011.
It was Singapore's best ever economic performance, surpassing the previous record of 13.8 percent growth set in 1970 and was within the government's projected growth range of 13-15 percent.
The economy grew by an annual 10.5 percent in the September quarter.
Prime Minister Lee Hsien Loong, in his annual New Year speech on Friday, said gross domestic product (GDP) for 2010 expanded 14.7 percent.
"The Singapore economy recovered strongly in 2010," the prime minister said.
"This is a dramatic rebound from the negative growth last year.
"We should rejoice in this exceptional performance, but please remember that it is also the result of special circumstances, and so is unlikely to be repeated soon."
Lee said growth in 2011 would likely moderate to 4.0-6.0 percent.
Singapore's GDP, valued at 247.33 billion Singapore dollars (191 billion US) in 2009, is highly dependent on external trade and any slip-up in the global economy would affect the city-state's economy.
Its GDP shrank 1.3 percent in 2009 because of the global downturn when demand from the United States and other developed economies collapsed.
The MTI said fourth-quarter growth was driven by the manufacturing sector's 28.2 percent annual expansion, which cushioned the impact of a 1.2 percent decline in construction activity.
The services sector, which accounts for 65 percent of Singapore's GDP, surged 8.8 percent in the fourth quarter.