Singapore has renewed the Bilateral Agreement for the Conduct of Joint Military Training and Exercises with the Indian Air Force (IAF), announced the Ministry of Defence (MINDEF) on January 19, source from VNS.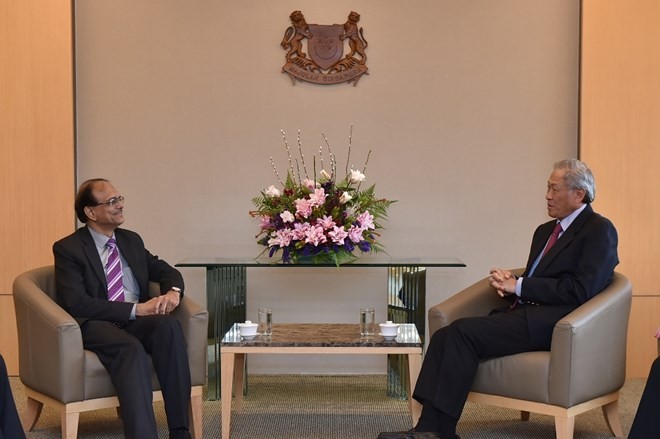 India's Defence Secretary G Mohan Kumar (L) with Singapore's Defence Minister Ng Eng Hen. (Photo: Singaporean Ministry of Defence)
The ministry said the agreement paves the way for the Republic of Singapore Air Force (RSAF) to continue its joint military training at Kalaikunda Air Force Station in India for another five years. Under the agreement, the RSAF will have opportunities to train with the IAF's advanced Su-30 fighter jet.

The renewal was signed by Singapore's Permanent Secretary of Defence Chan Yeng Kit and India's Defence Secretary G Mohan Kumar.
The signing ceremony was witnessed by Singapore's Defense Minister Ng Eng Hen and India's High Commissioner to Singapore Jawed Ashraf.
Kumar paid a two-day visit to Singapore from January 18 to co-chair the Singapore-India Defence Policy Dialogue with Chan Yeng Kit.
According to the MINDEF, during the dialogue, both sides emphasised the strong and growing ties between the RSAF and the IAF.
Both countries are committed to strengthening bilateral defence interactions and welcomed deeper defence cooperation for mutual benefit, it added.
The Bilateral Agreement for the Conduct of Joint Military Training and Exercises in India was inked in 2007 and first renewed in 2012