Singapore's minister of trade and industry said trade relations with Thailand remain strong, despite a furore over former Thai Prime Minister Thaksin Shinawatra's visit to the city-state last weekend
.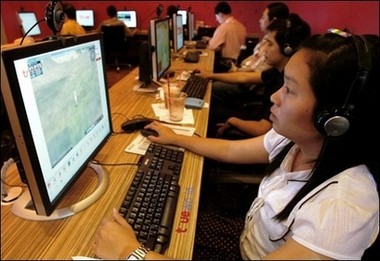 At an internet cafe in Bangkok,Thailand's Global revenue from music downloaded onto computers and mobile phones doubled to about 2.0 billion dollars (1.54 billion euros) in 2006
Minister Lim Hng Kiang also told reporters at a media event that he saw no need for the government to revise Singapore's fourth-quarter gross domestic product data, even though new data showed a sharp contraction in exports in December.
"I think the Q4 forecast is on track," Lim said, referring to the ministry's advance fourth quarter estimates, which were based largely on October and November data.
According to the advance estimates, Singapore's economy grew 5.9 percent in the fourth quarter from the previous year, and by 7.6 percent on a seasonally adjusted annualised basis.
Lim said that trade relations with Thailand remained strong, despite a diplomatic row which erupted after Thaksin met with Singapore's deputy prime minister during his visit to the city-state.
Thailand was Singapore's ninth-largest trading partner in 2006, accounting for 4 percent of the city-state's S$810.5 billion ($527.3 billion) total trade.
"The fundamentals of our economics and trade relationships are very strong," Lim said. "We are in constant dialogue with the Thai authorities. The Thai authorities are very market savvy."