SINGAPORE, Aug 27, 2011 (AFP) - Singaporeans voted Saturday in the city-state's first contested presidential election in 18 years following a heated campaign marked by calls for stronger checks on the ruling party.
Polls opened at 8:00 am (0000 GMT) amid rain showers and will close at 8:00 pm. The winner is expected to be known within hours after voting centres close.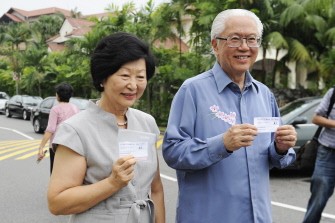 AFP- Presidential candidate Tony Tan (R) and his wife Mary pose for the media with their voting slips before they head to their polling station at a school in Singapore on August 27, 2011.
Three months after a parliamentary election eroded the dominance of the People's Action Party (PAP), which has ruled since 1959, anti-government sentiment is still running high in the online forums that now shape political debate in Singapore.
Four candidates -- all of them formerly associated with the government or civil service during their careers -- are running as individuals in the non-partisan contest, and there are around 2.3 million eligible voters.
"They are all very good candidates," auditor Andrew Ong, 26, told AFP after casting his vote.
Civil servant Mohamed Sadiq, 30, said he voted for "somebody who wouldn't divide Singaporeans."
The publication of pre-election survey results is banned but former deputy prime minister Tony Tan, 71, who quit the PAP in June, is seen as the man to beat.
The three other candidates are former legislator and ex-PAP member Tan Cheng Bock, former insurance cooperative boss Tan Kin Lian and former corporate executive Tan Jee Say, who also worked in the civil service.
Although it is a largely ceremonial post, interest in the presidency intensified after the PAP lost six parliamentary seats in May and saw its share of votes drop to an all-time low of 60 percent, from nearly 67 percent in the previous election.
Analysts said voters now see the presidency as an institution that can serve as a check on the PAP, which has been in power since Singapore gained self-rule from Britain in 1959 before becoming a full republic in 1965.
The current prime minister, Lee Hsien Loong, 59, is the son of Singapore's founding father Lee Kuan Yew, 87, who retired as a cabinet adviser after the May polls as part of a shakeup triggered by voter discontent.
The PAP was widely criticised before the May polls for its socio-economic policies as well as the rising cost of living despite steering Singapore's rapid rise to become one of Asia's wealthiest societies.
Voting is compulsory in Singapore, where the president was handpicked by parliament until direct elections were introduced in 1993, when only two candidates ran.
Outgoing president SR Nathan, a former civil servant perceived to be close to the PAP, was elected unopposed in 1999 and 2005.
The nine-day campaign for Saturday's vote was dominated by calls for an independent president who can serve as a balancing force against the PAP.
Singaporeans want an "independent fellow who is not beholden to anybody but who can speak on behalf of the people rather than a political party," said veteran political watcher Seah Chiang Nee.
"A lot of people until now dare not speak against the PAP, so if you can come across someone who has the integrity and courage to speak out, people will vote for that candidate," said Seah, who runs the independent website www.littlespeck.com.
The president is the custodian of Singapore's foreign reserves, which stood at close to $250 billion in July, and can veto their use by the government.
He has to sign appointments of senior government, civil service, military and judicial officials and can grant clemency to criminals awaiting execution.
Analysts say that even if Tony Tan wins, his share of all votes cast will be closely watched as a measure of support for the PAP.
The three candidates opposing Tony Tan took strongly critical positions against the PAP's record, but the former deputy premier urged voters to rise above partisan politics.