SINGAPORE, April 5, 2011 (AFP) - Singapore suspended fruit and vegetable imports from another Japanese prefecture after radiation levels on a sample of cabbage shipped from the region were found to have exceeded normal levels.
In a statement issued late Monday, the Agri-Food & Veterinary Authority of Singapore (AVA) said it had banned produce from Hyogo.
"Following the latest detection of radioactive contaminants in a sample of cabbage imported from the Hyogo prefecture, the AVA will extend its suspension on the import of fruits and vegetables to include Hyogo with immediate effect," it stated.
Singapore had earlier banned imports from ten Japanese prefectures including Fukushima and Tokyo.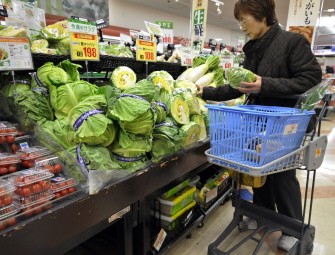 AFP - A shopper buys cabbages at a supermarket in Tokyo on April 5, 2011 after the government ordered a halt to shipments of vegetables from Chiba prefecture following abnormal radiation levels found in products near the quake-hit Fukushima nuclear plant
Japan on Monday dumped low-level radioactive water into the Pacific as part of emergency operations to stabilise its Fukushima Daiichi nuclear plant, which was crippled by the giant quake and tsunami that struck northeastern Japan on March 11.
Plant operator Tokyo Electric Power Company said the release of the water -- the equivalent of more than four Olympic sized swimming pools -- would not harm marine life or seafood safety but lingering fears remained.