Shoppers are buying plants ahead of Lunar New Year, with some varieties being brought in early to mark the Year of the Pig.
And in the run-up to February 18, some flower shops are expecting a two-fold increase in sales.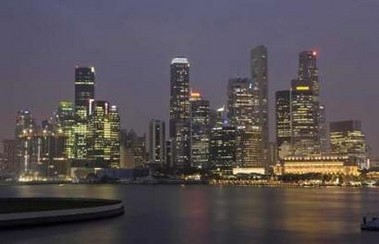 A view of the skyscrapers at Singapore's Central Business District
One shopper says he usually looks for plants with prosperity features and those that will bring him good health and good luck.
For others, the Year of the Pig holds more significance.
"My daughter was born in the Year of the Pig too. So, I guess there's more added meaning to stick around here and see what is interesting."
To keep up with demand, shops are sourcing their stocks from far afield. The Lunar New Year plants come from China, Taiwan and Malaysia.
Traditional plants like 'Four Season Lime' are selling well, alongside ornaments reflecting the coming Year of the Pig.
Oranges, which symbolise gold, are another annual favourite.
But they are competing against newer varieties like the 'Bamboo Pig Cage'. Sellers say the plant is shaped to resemble a pig cage to lock in luck.
Lim Woan Hui, Business Manager of Far East Flora, says plants like 'Bamboo of Bliss' and 'Pitcher Plant' - with significant meaning of the word 'pig' in Chinese - are also brought in to coincide with the Year of the Pig.
Two other new varieties of plant are on sale at one flower shop.
The red-leaved Begonia has been brought in for the New Year. Previously the plant had only green leaves.
The other plant is the Thompsoni plant which produces flowers in the shape of little red lanterns. -