A roadside blast killed five security officers travelling to the scene of a fatal shooting in the Thai south Friday, police said, amid a spike in attacks during the holy month of Ramadan.
The officers, responding to reports that a man had been shot on Thursday night in a rubber plantation in Narathiwat province, were targeted by one of two bombs hidden on the route into the area.
"Our officials went to the scene but there was an explosion on the way," said Police Lieutenant Colonel Prakard Eiadklai, inspector at the local Rue Soh district police station.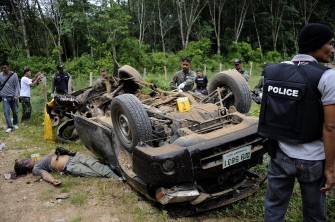 Thai police and explosive ordnance disposal (EOD) squad members inspect the wreckage of a car hit by a roadside blast which killed at least five security officers in Thailand's restive southern province of Narathiwat on August 26, 2011.
He said one person was wounded in the attack. The second bomb was defused and authorities were later able to reach the body of the shooting victim.
In a separate blast in Yala on Thursday, five refuse collectors were wounded, two of them seriously, on their morning rounds when a device hidden in a rubbish bag was detonated.
Around 4,800 people have been killed since rebels launched an uprising in early 2004, according to the latest figures from Deep South Watch, which monitors the conflict in Thailand's three southernmost provinces.
The organisation, which has recorded 73 attacks since the beginning of August, said violence in the Muslim majority south normally intensifies during Ramadan, which ends on Monday.
But Supaporn Panasnachee of Deep South Watch said this year the spike during the religious fasting month comes amid intensifying conflict.
"The trend of a higher frequency and more violent attacks started a few months ago," she told AFP, adding that there were 69 incidents in July.
Rights groups say the militants are rebelling against a long history of perceived discrimination against ethnic Malay Muslims in the deep south by authorities in the Buddhist-majority nation, including alleged abuses by the army.
However the militants keep a low profile and have not publicly stated their goals.