Israeli troops killed six Palestinians on Saturday in two separate operations, including a raid in the West Bank targeting members of president Mahmud Abbas's Fatah movement.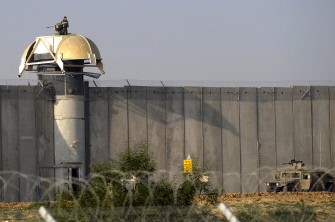 An Israeli soldier mans a watch tower equipped with a machine gun on the north side of the border with the Gaza Strip on December 26, 2009. (AFP Photo)
The incursion in the northern West Bank town of Nablus saw dozens of Israeli jeeps surround three houses in the historic Old City before troops barged in and shot three men, witnesses said.
The military said all three were militants who had killed an Israeli settler when they ambushed a car elsewhere in the West Bank on Thursday.
"Special forces killed three terrorists responsible for carrying out the shooting," the military said in a statement, adding that one of the men, Anan Subuh, 36, was armed.
"When he was killed, (Subuh) was armed with a handgun and hiding two M-16 assault rifles, an additional handgun, and ammunition," it said.
Family members said the troops entered without warning and killed the men in cold blood, insisting that none had resisted arrest or fired any shots.
Subuh was a member of Fatah's armed wing, the Al-Aqsa Martyrs' Brigades, but had been granted amnesty by Israel. The other two men were party activists, according to a Palestinian security official who asked not to be named.
A woman was wounded during the operation, according to Palestinian medics.
Another three Palestinians were meanwhile killed in the Gaza Strip as they approached the security fence separating the Hamas-ruled territory from Israel.
An Israeli military spokeswoman confirmed the Gaza strike, saying the men appeared to be trying to carry out an attack.
"Soldiers spotted the silhouettes of several men who were crawling towards the security fence and fired warning shots which were ignored," she said.
"An air force unit opened fire on them and then discovered evidence on the ground that proved they wanted to carry out a terrorist attack," she added.
According to medics and border guards of the Islamist Hamas movement, which controls Gaza, the three men were civilians scavenging for scrap metal near the security fence.
The uptick in violence in the West Bank comes after more than two years of relative calm during which Palestinian security forces loyal to Abbas have restored law and order in several former militant strongholds.
Nablus was a major militant bastion during the 2000 intifada, or uprising, but has more recently been held up as a model of calm and proof of the Palestinian Authority's commitment to the peace process with Israel.
Israel has in turn scaled back operations in urban centres and lifted some of its hundreds of checkpoints and roadblocks to allow for greater freedom of movement, contributing to increased economic development.
Gaza, which Hamas seized from Abbas's forces in June 2007, has also been relatively calm since a January 18 ceasefire ended a massive 22-day Israeli offensive aimed at halting Palestinian rocket attacks.
Some 1,400 Palestinian and 13 Israelis were killed and entire neighbourhoods were flattened in what was the deadliest Israeli offensive ever launched on the territory.