Taliban suicide gunmen stormed a UN hostel in Kabul Wednesday, killing six foreign staff in an assault the Islamist militia said marked the start of a bloody countdown to new Afghan elections.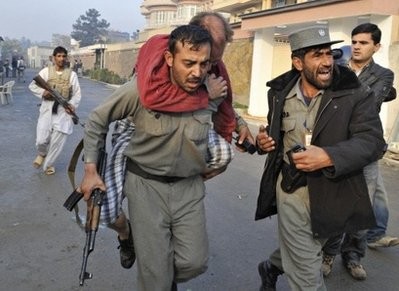 An injured man is carried by police following attack at Bekhtar guesthouse in Kabul, where six UN staff were killed. (AFP Photo)
At least nine UN staff were also injured as gunfire and explosions rang out across the city in a smart residential district near Butcher Street close to popular shopping streets favoured by Westerners.
Afghan police said the gunmen entered the UN-approved guesthouse in Kabul's Shar-e-Now district around dawn. Flames and heavy black smoke spewed into the sky as the security services closed off roads and surrounded the building.
The three gunmen were shot dead around 8:30 am (0400 GMT), Afghan interior ministry spokesman Zemarai Bashary said, about three hours after they launched the latest of a series of brazen raids in the heavily guarded capital city.
"Three suicide bombers have been killed during the police operation, they were armed suicide bombers," Bashary said.
UN spokesman Adrian Edwards confirmed that six international UN staff were killed. "We have nine injured, some of them seriously," he added.
One police officer and one intelligence officer had also been killed, an Afghan soldier at the site of the attack said.
Police confirmed a second attack in which militants fired rockets at the luxury Serena Hotel, which is popular with diplomats and foreign businessmen. No casualties were immediately reported.
A telephone operator at the hotel told AFP he had heard explosions, and that the lobby was deserted.
The new bloodshed came with tensions rising in Afghanistan ahead of the scheduled presidential second-round election on November 7.
It came also as US Secretary of State Hillary Clinton kicked off a surprise visit to neighbouring Pakistan, seeking to bolster the nuclear-armed state on the frontlines of the struggle against Taliban and Al-Qaeda militants. Related article: Clinton in Pakistan
After an exhaustive review of war strategy, President Barack Obama may pick a plan to secure 10 major Afghan population centers rather than going out for an all-out military push, the New York Times reported Wednesday. Related article: US Afghanistan review
A police officer told AFP that one of the gunmen involved in Wednesday's attack detonated an explosives vest before the other attackers fled into the apartment building in the crowded neighbourhood.
One policeman on the ground, who did not give his name, said there had been a huge blast inside the guesthouse.
Police jeeps with mounted machine-guns and fire engines were seen racing through the streets of the capital, an AFP photographer said.
"We claim responsibility," Taliban spokesman Zabihullah Mujahed told AFP by telephone. "This is the first step, as we have warned that we will disrupt the second round of the elections."
Speaking from an undisclosed location, he said three militants wearing suicide vests packed with explosives and armed with automatic weapons were involved in the raid.
President Hamid Karzai and former foreign minister Abdullah Abdullah are due to face off after a fraud-tainted first round in August. There was also low turnout in August after a vicious intimidation campaign by the Taliban. Related article: Doubts over Afghan run-off
The Taliban have called for a boycott of the November 7 ballot, threatening violent consequences for anyone who votes.
Almost 200 violent incidents around the first vote were attributed to the Taliban, including amputations of fingers marked with purple ink as proof of voting, and rocket and grenade attacks on polling stations.
.