Six-party talks on ending Democratic People's Republic of Korea's (DPRK) nuclear programme are expected to resume after a summit of APEC later this month, officials said Wednesday.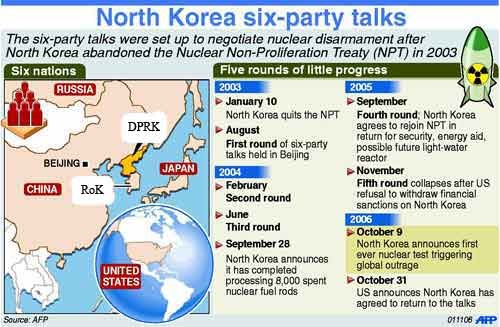 Graphic fact file on the history of the six-nation talks on North Korean nuclear disarmament
Republic of Korea (RoK) is also pushing for a series of summit talks with the United States, China, Japan and Russia on the sidelines of the Asia Pacific Economic Cooperation (APEC) summit on November 18-19 in Hanoi, they said.
"The six-party talks are most likely to take place following high-level coordination among leaders on the sidelines of the APEC summit," Vice Foreign Minister Yu Myung-Hwan told lawmakers.
DPRK on Wednesday confirmed it would return to the six-party talks for the first time in a year on condition that the issue of lifting US financial sanctions will be discussed and settled during the negotiations.
Pyongyang agreed at the six-way talks in September 2005 to scrap its nuclear programmes in exchange for energy and other economic aid and security guarantees.
But it boycotted the forum two months later in protest at US action to freeze its accounts totalling 24 million dollars in Banco Delta Asia (BDA) in connection with alleged money laundering and counterfeiting.
Yu said the issue of the BDA accounts was expected to be settled following a year-long investigation.
"This issue will come to a conclusion sooner or later," he said.
He said the North's decision to return to the six-party talks would not lead the United Nations to ease sanctions it had slapped on Pyongyang last month following its first nuclear test.
"If the talks bear fruit, the United Nations Security Council would adopt a new resolution to ease the sanctions but the mere fact that DPRK decided to return to the talks will not result in eased sanctions," Yu said.
US Secretary of State Condoleezza Rice also said the disarmament talks would not resume until after the APEC summit.
"I would think not too long after that we would hope to have the talks," she said in an interview with the CNBC cable television network.
Related Article: