BAENGNYEONG ISLAND, South Korea, March 28, 2010 (AFP) - Ships and aircraft searched Sunday for 46 sailors missing after a mystery explosion tore a South Korean warship apart, as tearful relatives urged the military to work faster.
"My son, where are you in that cold water?" wept a woman carrying a framed photo of him as she waited for news at a navy base south of Seoul.
In one of the country's worst naval disasters, the 1,200-tonne corvette Cheonan with 104 crew on board sank late Friday in the Yellow Sea near the tense disputed border with North Korea.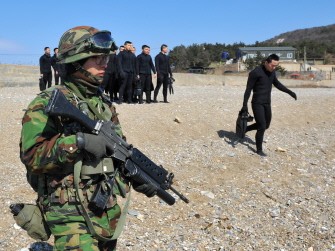 South Korean marines search for possible survivors on March 28,2010. AFP photo
Seoul officials have not so far suggested Pyongyang was involved.
Only 58 sailors have so far been rescued after the blast ripped the ship in half off Baengnyeong island. Hopes for the remainder were fading fast, with water temperatures only a few degrees above freezing.
President Lee Myung-Bak urged rescuers not to abandon hope.
"Utmost efforts must be exerted in carrying out the rescue mission in the belief that missing crew members could still be alive," he told a security meeting Sunday, according to spokesman Park Sun-Kyoo.
Lee also ordered a thorough probe with all possibilities taken into account, warning against "jumping to conclusions" prematurely.
Defence ministry spokesman Won Tae-Jae told a briefing it would take "a significant time to reach a reliable conclusion" about the cause of the blast.
But angry and tearful families protested at what they called a lack of information and slow progress in locating the missing.
Choppy seas, strong currents and poor visibility foiled two attempts Sunday by military divers to access the sunken hull.
"Just fetch any divers, not just military ones but also civilian ones, to rescue them," said one woman at the naval base at Pyeongtaek south of Seoul whose husband is among the missing
A naval boat left Pyeongtaek to take 88 family members to the scene of the tragedy off Baengnyeong island.
On Saturday some distraught family members had called the Cheonan's captain a "liar" after he gave briefings on the blast at the navy base.
"The ship was torn apart and the stern sank immediately," the captain, Choi Won-Il, told relatives Saturday, saying power and communications were lost.
"I was trapped in the cabin for five minutes before my colleagues broke the window in and let me out. When I got out, the stern had disappeared."
A salvage ship and two mine-detecting boats were at the scene Sunday. A US military salvage ship is set to join the rescue effort Monday, Seoul's defence ministry said.
The military has said many of the missing sailors may be trapped inside the submerged hull.
The 88-metre (290-foot) craft was said to carry missiles, torpedoes and other weaponry and munitions.
The tragedy occurred near the disputed sea border between North and South Korea, scene of deadly naval clashes in 1999 and 2002 and of a firefight last November.
But Seoul said there were no abnormal military movements at the time on the North Korean side of the border amnd the .
"Military experts and warship engineers increasingly think the blast was accidental," Baek Seung-Joo, senior analyst of Seoul's Korea Institute for Defense Analyses, told AFP.
"There must have been a very powerful explosion inside the vessel.
"Chances are low that the ship -- with anti-submarine, anti-aircraft and anti-ship warfare capability -- was attacked by a missile, a torpedo or cannon fire and helplessly sank after a single blow."
The ship might have hit a drifting mine, which triggered an internal explosion, he said.