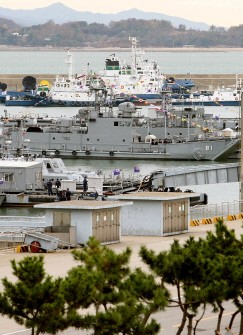 South Korean Navy vessels sit at anchor at a naval base in Incheon, west of Seoul, on November 11, 2009 (AFP photo)
SEOUL, Nov 11, 2009 (AFP) - South Korea's military was on alert Wednesday for any retaliatory moves after a North Korean patrol boat was set ablaze in a naval clash, as Washington warned Pyongyang against escalating tensions.
Defence Minister Kim Tae-Young ordered army, navy and air force commanders in charge of border areas to step up surveillance and respond immediately to any provocation, a spokesman for Seoul's Joint Chiefs of Staff said.
Tuesday's clash near the disputed Yellow Sea border raised tensions just over a week before US President Barack Obama arrives in Seoul as part of an Asian tour.
White House spokesman Robert Gibbs called on the North to avoid any further actions "that could be seen as an escalation".
But Washington also announced it was accepting an invitation to send an envoy to Pyongyang to try to bring the communist state back to nuclear disarmament talks.
The State Department said the US envoy to North Korea, Stephen Bosworth, would visit at an appropriate time, probably before year-end.
Military sources quoted by Seoul newspapers said one North Korean sailor was killed and three wounded in the brief but fierce exchange of fire.
The defence ministry said it could not confirm the figure. No South Koreans were injured.
President Lee Myung-Bak called Tuesday for calm to prevent any escalation. His Prime Minister Chung Un-Chan described the clash, which follows recent peace overtures from the North, as unplanned.
But Lee is concerned about a possible retaliatory move by the North, Defence Minister Kim Tae-Young told parliament Tuesday.
The top presidential aide for security affairs, Kim Sung-Hwan, told Yonhap news agency Wednesday there were no signs of preparations for any revenge strike.
"But the North may take its time, waiting for the best chance for retaliation. We're taking countermeasures," he said.
Cross-border tensions have been high for more than a year and the North has also angered the international community with missile test-launches and a second atomic weapons test. The United Nations tightened sanctions in response.
The North says it is ready to rejoin six-nation nuclear disarmament talks that it quit in April if the US discussions go well.
Washington stresses that the bilateral talks are intended only to bring Pyongyang back to the six-party forum, which also includes South Korea, Japan, China and Russia.