South Korea's military was on watch for further tests after North Korea launched seven ballistic missiles in a show of firepower which earned international criticism.
The missiles -- which the North is banned from firing under UN resolutions -- were launched into the Sea of Japan (East Sea) Saturday in an act of defiance apparently timed for the US Independence Day holiday.
They further fuelled regional tensions after its nuclear test in May.
"There are no signs of preparations for additional missile launches today as yet but we are closely watching," a defence ministry spokesman told AFP.
The launches came as Washington seeks support for tough enforcement of United Nations sanctions aimed at shutting down Pyongyang's nuclear and missile programmes.
It was the biggest salvo of ballistic weaponry since the North fired a long-range Taepodong-2 and six smaller missiles on US Independence Day in 2006.
Seoul's Joint Chiefs of Staff said they had a range of between 400 and 500 km (250-310 miles) but declined to say what type they were. Yonhap news agency said they were either Scuds, or Rodong-1 missiles whose maximum range of 1,300 km had been shortened.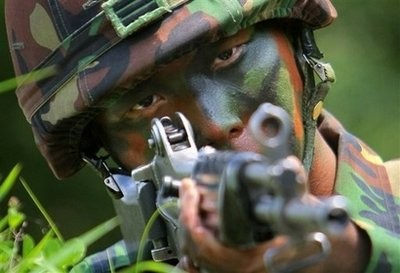 A South Korean soldier aims his rifle while on patrol along the border with North Korea in Chulwon, north of Seoul in June
The North on Thursday test-fired four short-range missiles with a range of 120 km into the Sea of Japan.
Saturday's launches were seen as more provocative since the missiles could potentially reach most of South Korea, and possibly parts of Japan.
The North has also apparently improved the accuracy of its missiles, an unidentified official told Yonhap, with five out of the seven hitting the target area after travelling about 450 km.
"Our analysis showed North Korea has improved the accuracy of its missiles," the official said.
"Three of the seven missiles fired had an unusually high velocity that makes us believe they could have been Rodong missiles that had their flight distance shortened," the official was quoted as saying.
The North has about 600 Scuds, plus 200 Rodong-1 missiles which could reach Tokyo.
The US State Department, in what was seen by analysts as a mild response, urged Pyongyang not to "aggravate tensions" and called the launches "not helpful".
Seoul's foreign ministry said the "provocative act... clearly violates" three UN Security Council resolutions, including the latest one on June 12 which toughened weapons-related sanctions on the North in response to its May 25 nuclear test.
In a statement Saturday the ministry expressed "deep regret over North Korea's continued acts to escalate tensions in Northeast Asia".
Britain, France and Japan condemned the latest launches.
"It is a serious act of provocation against the security of neighbouring countries, including our country," Japanese Chief Cabinet Secretary Takeo Kawamura said.
Professor Kim Yong-Hyun of Seoul's Dongguk University said the launches were clearly timed to coincide with US Independence Day.
"This is a thinly veiled warning to the United States and the international community that it may launch long-range missiles next time," he told AFP.
Yonhap, however, quoted authorities as saying there is no sign of an imminent long-range missile launch.
North Korea has made a series of bellicose moves this year.
US and South Korean officials believe ailing leader Kim Jong-Il, 67, is staging a show of strength to bolster his authority as he tries to put in place a succession plan involving his youngest son Jong-Un.
A long-range rocket launch on April 5 was followed by the nuclear test -- the second since 2006 -- on May 25.
In the days after its atomic test, Pyongyang fired six short-range missiles, renounced the truce in force on the Korean peninsula for half a century and threatened possible attacks on Seoul.