BAENGNYEONG ISLAND, South Korea, March 30, 2010 (AFP) - President Lee Myung-Bak ordered South Korea's military Tuesday to stay alert against North Korea, after a mystery blast sank one of its warships near the tense border.
"Since the incident happened at the frontline, the government should be thoroughly prepared to cope with any movement on the part of North Korea," he told a cabinet meeting in Seoul, according to a presidential statement.
"The armed forces are urged to maintain full alert without the slightest breach," Lee said, before flying by helicopter to Baengnyeong Island near the disputed boundary with an escort of jet fighters.
Lee cautioned against drawing a "hasty conclusion" about the blast which tore a 1,200-tonne corvette in two late Friday and left 46 sailors missing.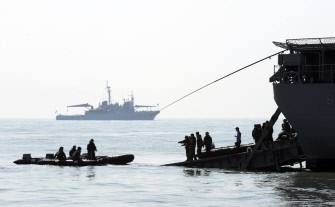 South Korean Navy Ship Salvage Unit members launch rubber boats from Landing Ship Tank LST-685 Seonginbong to search for possible survivors and bodies on March 29, 2010. AFP photo
His defence minister Kim Tae-Young said Monday a drifting North Korean mine dating back to the 1950-53 war might have caused the blast, or that the North might have intentionally sent a mine floating towards the ship.
Seoul officials have not raised any evidence the North was to blame for the sinking near the Yellow Sea border, the scene of deadly naval clashes in 1999 and 2002 and of a firefight last November.
US Deputy Secretary of State James Steinberg said in Washington he had heard nothing to implicate any other country in the tragedy.
Lee later Tuesday became the country's first president to visit Baengnyeong Island, 16 kilometres (10 miles) from North Korea's coast, where guided missile and artillery batteries are deployed.
"Fighter jets were on patrol during his trip to the island because it is very close to major North Korean military camps," said his spokesman Park Sun-Kyoo.
The president's helicopter landed on an amphibious landing ship supervising the rescue. He travelled by small boat to another ship for a briefing and visited a Marine Corp base on the island to meet families of the missing.
Rescuers refused to abandon hope for sailors feared trapped in the stern section of the 88-metre (290 foot) Cheonan, even though divers Monday heard no response when they banged on the sunken hull.
"Work is under way in the belief that there could be survivors," military spokesman Lee Ki-Shik said.
Rescuers late Monday injected oxygen through a crack into the stern, which rests at a 90 degree angle on the bed of the Yellow Sea. But divers could not find a way inside amid swift currents and cold murky water.
They were trying again Tuesday to access both sections.
A total of 58 crewmen were saved soon after the ship went down in near-freezing waters off Baengnyeong island. No one has been saved since then despite a major air and sea search, which Tuesday involved 19 South Korean or US vessels, eight helicopters and 170 rescue personnel.