SEOUL, Aug 19, 2009 (AFP) - South Korea Wednesday postponed the launch of its first space rocket minutes before the scheduled blast-off and began dumping its fuel, live television coverage showed.
The launch was scheduled for 5 pm (0800 GMT) but pictures from the space centre showed the countdown stopping just eight minutes beforehand.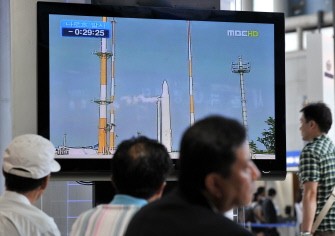 Travelers watch a TV screen broadcasting footage on South Korea's first rocket launch at a railway station in Seoul on August 19, 2009 (AFP photo)
The Korea Space Launch Vehicle-1, which was due to put a satellite into orbit, was seen being reattached to the launch pad.
A science ministry spokesman confirmed to AFP the launch had been suspended but could not immediately say why. An unidentified official said on television that problems in the automatic launch sequence caused the stoppage.
It is the seventh time that the project -- started in 2002 in partnership with Russia -- has been delayed.