South Korea's first woman prime minister, Han Myeong-Sook, formally resigned Wednesday amid speculation she may join the race for the December presidential election.
President Roh Moo-Hyun is likely to nominate former finance minister Han Duck-Soo to replace her, Yonhap news agency said, quoting sources at the presidential Blue House.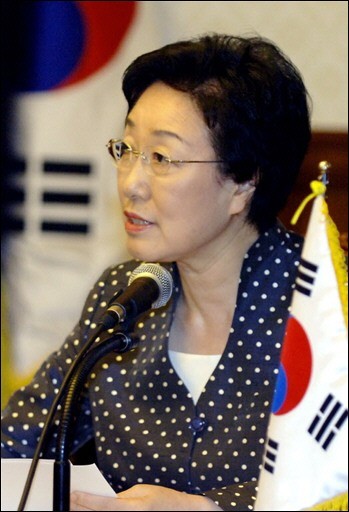 SKorea prime minister Han Myeong-Sook.
"I'm now returning to politics where I used to be," the outgoing prime minister told journalists as she wrapped up her 10 months in office with a ceremony.
Questioned whether she would seek the liberal Uri Party's nomination for the president, she said: "I'll take my time to think about it."
Han is credited for a low-profile but firm leadership style and her background as a pro-democracy activist.
The embattled Uri is struggling with low public support and Roh, who cannot stand again, is also suffering a popularity slump. He quit the party last month in an attempt to improve its chances in December.
Potential candidates from the conservative Grand National Party (GNP) are far ahead of Uri's possible candidates in opinion polls.
Uri last month lost its parliamentary majority to the GNP after a series of defections by lawmakers. It is preparing to disband and create a new party with other liberals.
Roh is expected to nominate a new prime minister on Friday. Han Duck-Soo, a career administrator who is currently Roh's adviser on free trade negotiations with the United States, is the most likely candidate.
She is "capable of flawlessly overseeing overall state affairs, including free trade talks with the US and other pending economic issues," an unidentified government official was quoted as saying this week by Yonhap.
The two sides aim to conclude the talks, launched in June last year, late this month. An eighth round begins Thursday.