South Korean President Lee Myung-Bak has given details of his impoverished childhood in an upcoming autobiography, recalling how he used to fill his stomach with water to quell hunger pangs at school.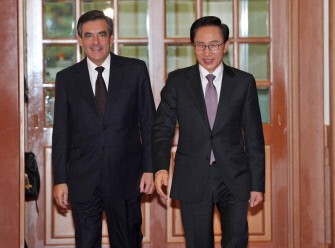 French Prime Minister Francois Fillon (L) and South Korean President Lee Myung-Bak walk together into the president's office in Seoul on October 21, 2011.
Lee's English-language autobiography, to hit US bookstores in November, chronicles his rags-to-riches rise to the country's most powerful post in what he calls "a great adventure".
"Poverty clung to my family like a leech," Lee says in "The Uncharted Path", recounting the hardships common to many South Koreans in the wake of World War II and the 1950-53 Korean War.
Lee says his family had no money for his school lunch box and he would fill his stomach with tap water during lunch hour to stave off hunger pangs.
"I remember drinking until I became bloated. That's when I learned that no matter how much you drink, water never makes you full," he said.
Lee also peddled cookies and matches on the street to support his family and paid his college tuition fees by collecting garbage. After graduating, he was hired by Hyundai Construction and became its youngest-ever CEO at age 35.
His rise from a poor boy in the southeastern port of Pohang to CEO and later Seoul mayor typifies the country's advance from extreme post-war poverty to prosperity.
Lee, now 69, became president in 2008 for a single five-year term.
"For a poor boy from Pohang, it's been a great adventure and, most of all, a great privilege. And my journey is not over yet," Lee writes.