A grim-faced South Korean leader vowed Monday to make North Korea pay for any future provocations, following its deadly artillery attack on civilian areas which he called "a crime against humanity".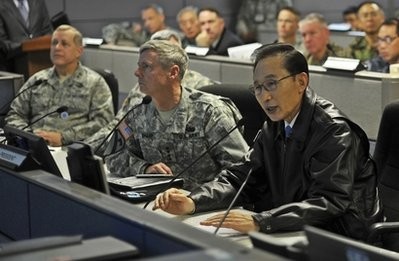 South Korea President Lee Myung-bak, right, encourages field commanders after being briefed by Gen. Walter Sharp, center, commander of U.S.

"If the North commits any additional provocations against the South, we will make sure that it pays a dear price without fail," said President Lee Myung-Bak.
It was his first national address since the North launched a hail of rockets and shells at a South Korean border island six days ago, killing two civilians and two marines, wounding 18 other people and setting homes ablaze.
Lee made no mention of China's call for diplomacy to end the crisis, in what one analyst saw as a tacit dismissal of it. Instead, he highlighted Pyongyang's past deadly attacks.
The South now realises the North will not on its own abandon its nuclear programme or brinkmanship policy, he said, adding that tolerance would "spawn nothing but more serious provocations".
China, the North's sole major ally, called Sunday for emergency consultations early next month between chief envoys to the stalled six-nation talks on Pyongyang's nuclear disarmament.
Lee has come under pressure to take a tougher line after his military's counter-fire against the North's barrage was seen as feeble and led to the resignation of the defence minister.
The US and South Korea Monday began the second day of their biggest-ever naval exercise, a show of strength against the regime that has tested nuclear bombs and is blamed for sinking a South Korean warship in March.
The sinking killed 46 sailors and sharply raised tensions, but the artillery attack was the first on civilian areas in the South since the 1950-1953 war.
The provocation this time was unprecedented, Lee said.
"A military attack against civilians is strictly prohibited even in time of war; it is a crime against humanity," he said.
Lee said a school was holding classes only a few metres (yards) from where shells landed, adding: "I am outraged by the ruthlessness of the North Korean regime, which is even indifferent to the lives of little children."
The South will revise rules of engagement to let the navy and air force strike back immediately after an attack, outgoing defence minister Kim Tae-Young was quoted by Yonhap news agency as telling parliament.
The government has vowed to strengthen defences on Yeonpyeong, the targeted island, and four other frontline islands.
An AFP photographer on Yeonpyeong saw a strong army reinforcement and multiple rocket launchers being installed. A loudspeaker message alerted remaining residents to a South Korean firing drill Tuesday morning and told them to shelter in bunkers beforehand.
Legislators said the military is seeking 312 billion won (270 million dollars) in next year's budget to bolster island defences, by deploying 19 new self-propelled howitzers and other weaponry.
The South's military said Monday's joint naval drills, far south of the tense Yellow Sea border, include a live-fire exercise by multiple aircraft from the US carrier George Washington.
Eleven ships from the two navies plus aircraft and more than 7,000 personnel are taking part in the four-day drill which began Sunday.
North Korea said the exercise is bringing the peninsula to the brink of war. It has also riled China, which sees the Yellow Sea as its own backyard, but Beijing has itself angered South Koreans by failing to join international condemnation of the North.
The United States had no immediate reaction to Beijing's call for emergency talks, while Japan expressed caution. The other members of the six-party forum are Russia and the North itself.
Lee Nae-Young, politics professor at Korea University, said the president was tacitly rejecting China's proposal by failing to mention it.
And Baek Seung-Joo of the South's Korea Institute for Defence Analyses, told AFP Lee's vow to make the North pay a price "expresses quite a strong determination that South Korea would strike back at a level previously unseen in case of a further provocation from the North".
The president's tougher tone chimes with the public mood, according to an opinion poll released Monday.
Eighty percent of respondents said the government should have responded more strongly, and 66 percent negatively assessed its handling of the crisis.
"Even though we help them, they continue to threaten us," said housewife Pyeon Hyo-Sun. "The world should pay attention to North Korea and we should get revenge for what they did."