South Korea's health ministry said Friday it would spend 193 billion won (152 million dollars) to secure vaccines against swine flu for 13 million people -- more than a quarter of the population.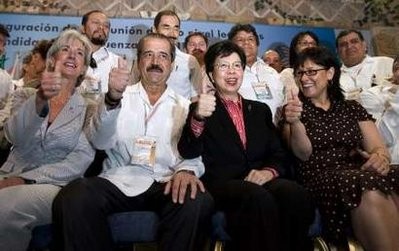 Ministers of Heath around the world pose for a photo during the first summit of Lessons Learned and Preparedness of Swine Flu in Cancun July 2, 2009.
The ministry said in a statement the aim was to safeguard against the possible rapid spread of the (A)H1N1 virus this autumn.
A US company which last month won a contract to develop a vaccine using insect cell technology has announced production of a first batch.
South Korean researchers this week also began work on developing vaccine prototypes.
South Korea has reported 238 infections and no deaths. But there are concerns that Koreans studying abroad could bring back the infection when they return for summer holidays.
On Thursday an elementary school was temporarily closed after a student was confirmed infected with the disease.
Swine flu has killed 332 people worldwide since emerging in Mexico in April.