South Korea's central bank Friday unexpectedly raised the key interest rate from a record low in a bid to restrain inflation as Asia's fourth largest economy posts a solid recovery.
Contrary to widespread predictions, Bank of Korea governor Kim Choong-Soo and other policymakers increased the benchmark seven-day repo rate for July from 2 percent to 2.25 percent -- the first rise since August 2008.
As the global financial crisis hit, the central bank cut rates by a total of 325 basis points between October 2008 and February 2009.
It now joins a series of Asian central banks trying to curb price rises as the region leads the global recovery.
Kim told a press conference the economy probably grew by about 7 percent in the second quarter compared to April-June 2009, and consumer inflation was likely to top 3 percent next year.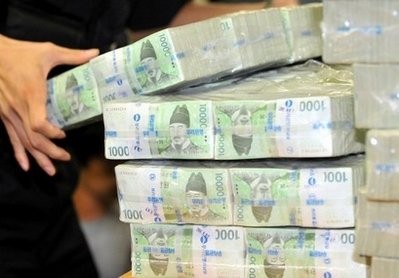 A South Korean security worker prepares a batch of money in the basement of the central bank in Seoul
He described Korea's current monetary policy stance as still accommodative and said it was not the time to adopt a tightening stance.
Future rate rises would be done in a way that would not hurt growth, Kim said.
The won strengthened sharply against the dollar on the rate rise. At 0213 GMT the rate was 1,198.9 to the US unit from 1,209.3 late Thursday.
HI Investment and Securities economist Park Sang-Hyun told Dow Jones Newswires the bank would probably wait until September or October before tightening further.
Park said it may have been influenced by calls from the International Monetary Fund, among others, for fast-growing economies to begin monetary tightening.
The finance ministry has raised its economic growth projection for this year to 5.8 percent, up from 5.0 percent. The IMF forecasts 5.75 percent.