SEOUL, July 28, 2010 (AFP) - North Korean leader Kim Jong-Il has attended a concert marking "victory" in the Korean War, official media said Wednesday, as US and South Korean forces pressed on with a military exercise to deter Pyongyang.
Kim hailed his country's "shining victory" during a concert marking Tuesday's 57th anniversary of the armistice which ended the three-year conflict, the Korean Central News Agency said.
Tensions remain high almost six decades after the truce, which was never followed by a peace treaty.
South Korea and its US ally say a North Korean submarine torpedoed one of Seoul's warships in March with the loss of 46 lives.
On Sunday they launched a major naval and air exercise aimed at deterring what they call future North Korean provocations.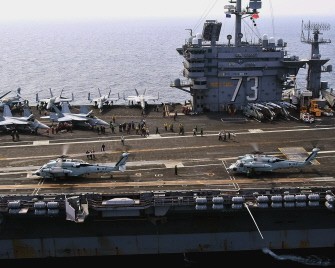 This US Navy handout photo shows Republic of Korea Navy SH-60S Sea Hawk helicopters from the Republic of Korea Navy amphibious landing ship Dokdo as they land July 27, 2010 aboard the aircraft carrier USS George Washington during operation "Invincible Spirit". AFP
About 20 ships including the 97,000-ton carrier USS George Washington, 200 aircraft including four F-22 Raptor stealth fighters, and 8,000 personnel are taking part in the largest joint drill for years.
The exercise, which has focused on defences against submarines, was scheduled to end at 5 pm (0800 GMT) Wednesday. But Seoul's defence ministry has said some nine other joint drills will be held later this year.
The North has threatened nuclear retaliation against the drill, which it depicts as a rehearsal for invasion. However Seoul's military says no unusual military moves have been detected across the border.
The United States has also announced new sanctions to punish the North for the sinking and push it to scrap its nuclear weapons programme.
Robert Einhorn, the State Department's special adviser for nonproliferation and arms control, will arrive in Seoul this weekend, Yonhap news agency quoted a diplomatic source as saying.
South Korean officials will meet the Americans Monday to discuss financial sanctions and other penalties against the North, the source said. The dates could not immediately be confirmed.
The US delegation will include about five officials from the defense and treasury departments and the National Security Council, Yonhap said. It will also reportedly visit Japan, Malaysia and Singapore to seek cooperation in enforcing the financial sanctions.
Widespread South Korean media reports say the US has identified some 200 North Korea-linked bank accounts in foreign countries, and is expected to freeze about half of them on suspicion they are linked to illicit activities.
"We're looking to identify front companies which help North Korea evade existing sanctions," State Department spokesman Philip Crowley said Monday, without confirming the figures.