South Korea and the United States put their troops on higher alert in the Korean peninsula Thursday after the North said it was ending a truce in force for half a century and warned of a possible attack.
Seoul's defence ministry said air and ground forces were keeping a closer watch on the tense land and sea border with the communist North after Pyongyang said it was abandoning the armistice signed to end the Korean War in 1953.
Tensions have risen sharply since North Korea Monday tested a nuclear bomb believed to be about four times more powerful than the one it detonated in 2006. It followed up by test-firing five short-range missiles.
"We are maintaining a tight defence posture to prevent the North's military provocations," said ministry spokesman Won Tae-Jae. "The military will deal sternly with provocative acts."
In Washington, State Department spokesman Ian Kelly said the United States and other members of the UN Security Council were mulling "possible sanctions" against Pyongyang, in the first such on the record comment from a US official.
White House spokesman Robert Gibbs added that Beijing, considered a key player in the showdown with Pyongyang due to its supposed leverage over its reclusive ally, was being "very helpful" in efforts to censure the North.
At the United Nations, ambassadors of the five permanent members of the UN Security Council plus South Korea and Japan discussed how to censure the North for its nuclear test, but apparently without making any breakthrough.
"This is quite a complicated discussion," Britain's UN Ambassador John Sawers told reporters after the meeting. "We're looking forward to continuing our work. We need some time."
Russia's UN ambassador, the council chair this month, said the group needed some time to reflect on specific elements of the resolution. A meeting by the full 15-member Security Council on the draft was not expected until next week.
The text of the resolution, being drafted by Japan and the United States, leaves out details of a key paragraph on possible, additional sanctions that would be slapped on Pyongyang.
A Western diplomat earlier said proposals included extending the list of entities targeted for travel bans or financial sanctions, a broader arms embargo, tougher inspections of cargo, a freeze on North Korean assets abroad and denial of access to international banking and financial services.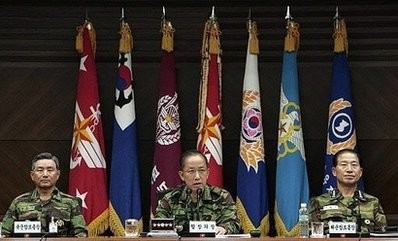 Kim Tae-young (C), chairman of Joint Chiefs of Staff of South Korea, presides over the entire force commanders meeting at the headquarters of the Defence Ministry in Seoul
US Secretary of State Hillary Clinton had earlier stressed Washington's resolve to defend Japan and South Korea amid what the White House called North Korean "sabre-rattling and bluster."
"I want to underscore the commitment the United States has, and intends always to honour, for the defence of South Korea and Japan," Clinton said.
The US headed a UN command that fought for the South in the 1950-53 war and still stations 28,500 troops in South Korea.
Pyongyang said its decision to pull out of the truce that ended the Korean War was prompted by Seoul's decision to join the US-led Proliferation Security Initiative, designed to stop the spread of weapons of mass destruction.
This can involve stopping and searching ships, although the South has said North Korean merchant ships can still cross its sea borders under a 2005 accord.
The North described Seoul's decision as akin to a declaration of war and said its military would no longer be bound by the armistice.
"Any tiny hostile acts against our republic, including the stopping and searching of our peaceful vessels... will face an immediate and strong military strike in response," it said.
It was the fifth time in 15 years that the North has threatened to tear up the armistice, according to the White House.
"We're certainly concerned and take any threat seriously," said White House spokesman Gibbs. "But my sense is they're trying to get renewed attention through sabre-rattling and bluster and threats."
Professor Kim Yong-Hyun of Seoul's Dongguk University said the North was likely to follow up by firing short-range missiles or shells into the Yellow Sea, or by seizing South Korean fishing boats near the disputed border.
"We're watching a game of chicken being played on the Korean peninsula," Kim told journalists.
The North's policy has become noticeably harder-line since last summer when leader Kim Jong-Il, now 67, reportedly suffered a stroke.
Several analysts believe Kim staged the test to shore up his authority as he puts his succession plans in place.
After the Security Council censured its April 5 rocket launch and tightened existing sanctions, the North said it was quitting nuclear disarmament talks and would restart its Yongbyon atomic facility and conduct more missile and nuclear tests.
Many experts believe however it is still some way from being able to deliver a nuclear bomb by missile.