SEOUL, May 1, 2009 (AFP) - South Korean ex-president Roh Moo-Hyun returned home Friday after 10 hours of questioning by prosecutors investigating a multi-million-dollar bribery scandal.
The former leader was questioned about a payment worth one million dollars to his wife from a wealthy shoemaker, and a payment by the same man worth five million dollars to the husband of one of Roh's nieces, Yeon Cheol-Ho.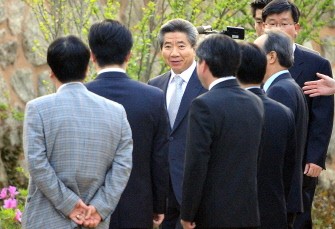 Former South Korean president Roh Moo-Hyun (C) arrives at his home in the remote village of Gimhae, near southern port city of Busan, on May 1 (AFP photo)
"I did my best," Roh told journalists before he headed back from Seoul to his retirement home in the southeastern town of Bongha.
His lawyer said Roh had denied personal involvement in the scandal.
Prosecutors say the five million dollars eventually ended up in the hands of Roh's son, Gun-Ho. They have already arrested the shoemaker, Park Yeon-Cha.
Roh, a former human rights lawyer, won office partly on an anti-corruption platform and served from 2003 to 2008.
He has publicly apologised for his family's involvement in the case but has not admitted personal wrongdoing. He again expressed shame on Thursday at disappointing fellow Koreans.
"Our efforts have paid off," senior prosecutor Hong Man-Pyo told journalists. "We'll stick to laws and principles in proceeding with this case."
Prosecutors are expected to decide next week whether to charge the former president.
Roh told them he was unaware at the time that his wife had accepted an unspecified sum as a loan from Park to pay off debts, his lawyers said.
Gun-Ho and Yeon have said the five million dollars was a legitimate business investment.
Roh also said he was kept in the dark when his former close aide, Jung Sang-Moon, allegedly embezzled 1.25 billion won (978,000 dollars) from the presidential budget.
"Now it's become clear that the six million dollars in question have nothing to do with Roh," Moon Jae-In, Roh's laywer and former chief secretary, was quoted as saying by Yonhap news agency.
"The prosecution and the president (Roh) are squaring off against each other," he said, indicating a fierce court battle in the future.
Five former presidents including Roh have been tarnished by scandals involving either themselves or their families. Apart from Roh, Chun Doo-Hwan and Roh Tae-Woo personally faced a criminal probe.
Chun and Roh Tae-Woo were convicted in 1995 of receiving bribes and inciting mutiny. Both were sentenced to death but pardoned in 1997.