SEOUL (AFP) – South Korea's Samsung Heavy Industries has rolled out a system to help ships detect and fend off pirates, after the recent hijacking of a South Korean freighter near Somalia alarmed shippers.
The nation's third-largest shipbuilder on Sunday said the new anti-piracy system detects smaller boats in the vicinity often undetected under existing marine radar systems and issues an automatic alert when approached.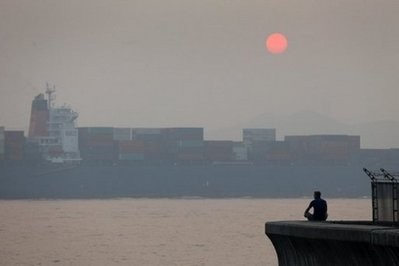 AFP file - Samsung Heavy Industries has rolled out a system to help ships detect and fend off pirates
"The alert is issued when an approaching vessel does not respond to usual ship-to-ship radio communications or shows unusual navigating patterns and speed," the company spokesman told AFP.
The system allows sailors in a navigation room to remotely control water cannons on the ship's deck that can up to 70 metres (230 feet) when pirates attempt to climb aboard.
"That way, crew will be safe from potential shooting attacks from pirates when firing the water cannons," said the spokesman, adding the system is applicable to most existing ships.
"We believe more of our clients want ships armed with such a system, considering what has been happening near Somalia recent years," he said.
South Korean navy commandos on Friday stormed a ship hijacked by Somali pirates in the Indian Ocean, rescuing all the crew and killing eight pirates.
The pirates seized the 11,500-ton ship and the 21 crew members -- eight South Koreans, two Indonesians and 11 from Myanmar -- on January 15 in the Arabian Sea when it was en route to Sri Lanka from the United Arab Emirates.
The hijacking came two months after a supertanker belonging to the same shipping operator, Samho Shipping, was released in exchange for a reported ransom of $9 million after being held for seven months.
Piracy has surged off lawless Somalia in recent years, and international warships patrol the area in a bid to clamp down on the problem. Pirates are currently holding 29 vessels and about 700 hostages.