Sri Lanka's president on Tuesday offered concessions to ethnic Tamil demands for greater autonomy ahead of elections in which the minority community could play a decisive role.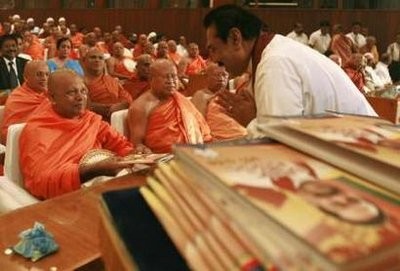 Sri Lanka's President Mahinda Rajapaksa presents his election manifesto to a group of monks in Colombo January 11, 2010. (AFP Photo)
President Mahinda Rajapakse, who is seeking a second term, said he was proposing power-sharing arrangements to give minority Tamils a greater say in the legislature and address long-standing demands for devolution of power.
Tamils account for 12.5 percent of Sri Lanka's 20 million population and have long pushed for regional autonomy.
The quest for an independent homeland was the main plank of a decades-long armed insurgency by Tamil Tiger separatists that only ended last year with a final military victory over the rebels.
"The end of the war does not mean the end of the conflict," Rajapakse told foreign correspondents at his tightly guarded Temple Trees residence in Colombo. "We need to politically address the needs of Tamils."
His remarks came days after the main Tamil political group, the Tamil National Alliance, pledged to support his main presidential challenger, former army chief Sarath Fonseka.
Both men are from the majority Sinhalese community. If they split the Sinhalese vote at the January 26 polls, then the Tamil vote could prove the deciding factor.
Rajapakse had called the election two years ahead of schedule hoping to benefit from the final defeat of the Tamil Tigers.
But as the architect of the military victory, Fonseka can also lay claim to credit for ending the conflict.
Fonseka has offered to scrap the all-powerful presidential system and revert to a parliamentary democracy, while Rajapakse is offering more representation for minority Tamils in new legislative arrangements.
"All this will require amending the constitution and seeking the approval of the people at a referendum," Rajapakse said. "The ordinary people simply want to live in peace, but there is a demand and a need for a political settlement."