The mayor of a mudslide-devastated city on Sunday urged a precautionary shutdown of Brazil's only nuclear power plants due to blocked highways while the death toll from flooding and slides rose to 75.
Angra dos Reis Mayor Tuca Jordao said that while the nuclear power plants are not damaged or threatened, mudslides that that have killed at least 44 people in his city alone have disrupted escape routes needed to cope with any emergency.
"We don't want any risk," said Jordao, whose municipality has about 120,000 people. "We want to avoid a future problem."
There was no immediate response from higher authorities, but officials of Brazil's state-run nuclear energy company Electronuclear said a temporary closure of the plants would not seriously hurt the country's power supply, according to Globo TV. On Saturday, before the mayor's request, the company said a shutdown was not necessary.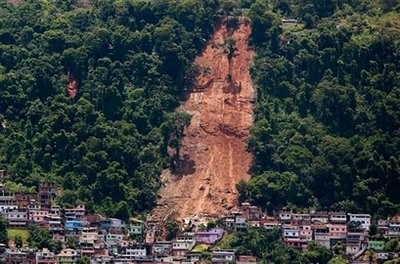 A mountainside is bare after a mudslide in Morro da Carioca, an area in the city of Angra dos Reis, near Rio de Janeiro, Brazil, Saturday, Jan. 2, 2010.
Crews using rescue dogs, heavy machinery, boats and helicopters took advantage of improved weather on Sunday to hunt for any survivors from the Angra dos Reis slides.
A civil defense spokeswoman said two bodies were recovered in the Carioca slum — where 15 people died — and two on the Ilha Grande island, where at least 29 died when a hillside collapsed on a vacation resort and neighboring houses on New Year's Day. The spokeswoman declined to be quoted by name in accordance with department policy.
Overall, authorities said, 66 people died in slides or flooding in Rio de Janeiro state, three in Minas Gerais state and six in the Sao Paulo state city of Cunha.
Lux-coely Amorim Mendes, 57, told Globo TV's G1 Web site that she had to identify the body of her 8-year-old granddaughter at the morgue, and found the child wearing the dress Mendes had given her for the holiday.
"I couldn't believe that was actually happening to us," she said.
Survivor Luciana Maximo de Castro told Globo TV that she was among friends invited to the hotel by the lodge owner's daughter, who died in the slide.
"There was a loud noise. I didn't know if it was a dream or if it was true," de Castro said. "Mud covered me, kept me from breathing."
G1 reported that one family lost 9- and 12-year-old daughters. Seventeen people from the city of Aruja were staying in a nearby house, it said, and only four survived. At least five people who were staying on the island are still missing.
Jordao said about 20 areas in Angra dos Reis was still at risk of mudslides and he said some people were being evacuated.
The dual slides were triggered by 10 inches (27 centimeters) of rain that had drenched the region since Wednesday, authorities said.