Fighters for Libya's new rulers were forced to regroup Friday on the edge of Sirte, as pro-Kadhafi snipers halted a two-week old assault on the ousted despot's hometown.
And in Bani Walid, the only other stronghold of forces loyal to Moamer Kadhafi, the National Transitional Council's fighters appeared to have opened another front.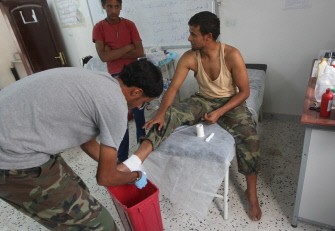 A wounded Libyan fighter loyal to the Transitional National Council (NTC) gets treatment at a hospital on the outskirts of Sirte on September 30, 2011
As the NTC forces faced stiff resistance on the battlefield, doubts grew that Kadhafi's vocal spokesman Mussa Ibrahim had been captured after reports he had been seized while disguised as a woman, complete with veil.
AFP correspondents on fronts east and west of Sirte said the former rebels had made no advances on Friday.
But in some of the fiercest fighting for days, the NTC fighters pounded Sirte with 106mm anti-tank guns, rocket-launchers and machine guns, while Kadhafi loyalists hit back with mortar, machine-gun and sniper fire.
One NTC fighter was killed and 11 wounded, a medic said, as NATO warplanes and drones flew overhead without striking.
NTC fighters held the line on the eastern outskirts of the city amid some sporadic artillery shelling and gunfire, an AFP correspondent said.
"If we want we can destroy Sirte completely. We have enough ammunition and shells to fight for 10 years," said Nasser Obeidi, leader of a group operating four Russian-built 130mm artillery canons.
"But we are allowing civilians to leave the city before we start a big assault. People are leaving the city daily, sometimes in large numbers," he told AFP.
At least 15 civilian cars were seen leaving Sirte's eastern gate, while about 1,000 evacuees were registered 50 kilometres (30 miles) west of the city, NTC officials said, adding they were detained 15 suspected Kadhafi supporters.
Obeidi acknowledged, however, that Kadhafi forces had deployed snipers in the city which was troubling the fighters.
"There are snipers deployed by Kadhafi's men inside the city. They are targeting even civilian cars who are leaving the city," said Obeidi.
But a former colonel in Kadhafi's army who is now an NTC fighter supervising cannon outside Sirte said his forces were determined to win the fight for the city.
Kadhafi diehards "are posing problems, but it won't be for long. Our 130mm cannon are targeting their stationery targets like military and administrative command centres and weapons depots inside Sirte," said Mahmud Muftah.
The lack of progress in the battle for Sirte was also making the situation more and more precarious for civilians caught in the crossfire.
Columns of NTC fighters backed by tanks had on September 15 launched their assault on Sirte, the fugitive Kadhafi's birthplace.
But after making inroads by claiming the city's strategic port, airport and military air base over the past week, progress stalled and they appealed for more NATO air strikes.
In Bani Walid, a heavy barrage of rockets and artillery hit NTC positions from the west, joining other fire that has been coming for days from the south.
"Today is the most intense attack we have faced since we came here," said NTC field commander Abdelbaset Tarhauni, as NATO fighter jets buzzed overhead.
An AFP correspondent saw one dead and six wounded NTC fighters from the attacks.
Meanwhile, Libya's new rulers were probing the whereabouts of Kadhafi's spokesman, as one television channel said it would air footage of him being detained in women's clothing.
NTC commanders said late Thursday they received reports from fighters on the ground that Ibrahim had been seized outside Sirte, where his loyalists have been under siege for the past week.
But the fighters' high command in Libya's third-largest city Misrata said it had been informed Ibrahim had not been captured, although members of his family were.
"Our correspondent at the front of Sirte assured us that he was not arrested," said Ali Gliwan of the Misrata Military Council.
"But he assured us that the arrest of several members of his family who are fleeing from the city of Sirte. This was confirmed by our staff" in the front's control room of Sirte, he said in an emailed statement.
A pro-Kadhafi website also denied NTC forces had captured Ibrahim, who kept up a steady stream of broadcasts in support of the strongman from unknown locations while on the run.
"Mussa Ibrahim has not been captured," the website of the former state television channel Allibiya said.
"This is a mendacious rumour aimed at distracting attention from the rebels'... defeat at the hands of the heroic forces in Sirte."
NTC efforts to secure the extradition of fugitive members of Kadhafi's family and inner circle, meanwhile, took a blow with a rebuff from neighbouring Niger to an arrest notice issued by global police agency Interpol for the toppled strongman's playboy son Saadi.
Niger has confirmed it has a total of 32 Kadhafi loyalists on its soil, including three generals, for "humanitarian reasons."
The whereabouts of Kadhafi himself remain a mystery, although he has issued repeated statements vowing to die a martyr rather than flee his homeland.
Libya's new leaders suspect that two of his sons -- Mutassim and Seif al-Islam -- are still inside the country, the former in Sirte and the latter in his loyalists' other significant remaining bastion, the desert city of Bani Walid.