SHANGHAI, Jan 21, 2011 (AFP) - Snow blanketing southern and eastern parts of China hampered travellers returning home for the Lunar New Year celebrations, with air, rail and road traffic severely disrupted, state media said Friday.
The snowfall in southern China this week has been the worst so far this winter, the China Meteorological Bureau said. Heavy snow has also fallen in central Hunan and eastern Jiangxi, Anhui and Zhejiang provinces.
China's 40-day annual Lunar New Year peak travel period began this week, when travellers are expected to make 2.6 billion trips on trains, planes, boats and buses.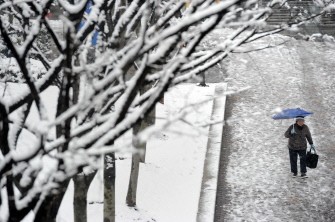 A Chinese woman walks along snow-covered trees during a snowfall in Shanghai on January 20, 2011. AFP
On Thursday, snow forced hundreds of flight delays and cancellations as airports in the eastern cities of Shanghai, Nanjing, Wuhan and Hangzhou struggled to cope with the winter weather.
Shanghai's Pudong and Hongqiao airports suffered delays to 500 flights, while airports in Hangzhou and Chongqing were forced to shut for hours due to ice and snow, the China Daily reported.
Three trains were cancelled at Shanghai's main railway station and 20 others suffered delays, while 250 buses travelling from neighbouring provinces failed to arrive at Shanghai's long-distance bus terminal, the newspaper said.
Sections of eastern Jiangxi's major expressway were closed with traffic jams stretching for 20 kilometres (12 miles) in the city of Jiujiang, the report said.
Snowfall in the south was expected to lighten from Friday, but low temperatures were expected to persist, the national weather bureau said.