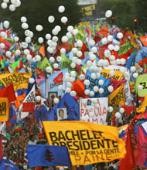 Thousands of people take part in the final rally of Socialist presidential candidate Michelle Bachelet, 12 January 2006 in Santiago.
The two rivals ended their campaigns on Thursday with giant rallies as a last poll gave Bachelet, a 54-year-old single mother of three, a six percentage point lead over Pinera.
   The Mori poll predicted Bachelet would get 53 percent of voter support Sunday and Pinera 47 percent.
   In the first round, the socialist favourite scored 46 percent against three other contenders, short of the 50 percent needed to avoid a runoff.
   Pinera got 25.4 percent of the first round vote but is hoping to secure the support of those who backed another right-wing candidate.
   Bachelet remained in Santiago to hold a final rally that was expected to attract 100,000 people, including many top politicians, pop stars and authors.
   "I am sure I am going to win," Bachelet said ahead of the rally, "and this poll shows it."
   Pinera headed to the southern port of Valparaiso in a bid to demonstrate his concern for Chile's outer regions.
   He seemed to acknowledge defeat however. "Whatever happens, we want a meeting to propose a constructive opposition to the future government," said Pinera, the country's richest man, who controls Chile's main airline.
   "Fifty-three percent to 47 percent is truly a landslide for a woman in Latin America," said Marta Lagos, director of the Mori institute in Chile. "She, as a single mother, represents the hope of quashing inequality ... of power for the powerless."
   The Mori poll, carried out between January 2-9, was the last one conducted ahead of the vote.
   As an agnostic and a single mother who has had children with two different partners, Bachelet's background goes against the grain in conservative Chilean society.
   But her family's history under Augusto Pinochet's dictatorship has connected her with many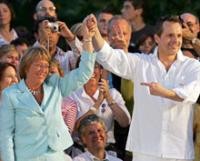 Spaniard Miguel Bose raises the hand of Chilean presidential candidate Michell Bachelet in Santiago, 12 January 2006.
 Chileans.
   Her father, an air force general, was arrested when Pinochet took power in 1973, and he died six months later, after being tortured in detention. She was arrested two years later, along with her mother, and was also tortured in prison.
   As the country's first female defense minister under current President Ricardo Lagos -- a post she renounced to run for president -- she campaigned for reconciliation with the military.
   Pinera, 56, of the National Renewal Party, is the biggest shareholder in the LAN airline, and runs several other companies. He led an aggressive campaign on a socially moderate but fiscally conservative platform.
   The successor to Lagos, also a socialist, will take office on March 11.
   The socialists are part of the left-wing Concertacion alliance, which has won every election since Pinochet stood down in 1990.
  Source: AFP