Military vehicles blocked the runway to prevent ousted President Manuel Zelaya from landing in Honduras, where he had planned to return after he was ousted one week ago, an AFP journalist witnessed Sunday.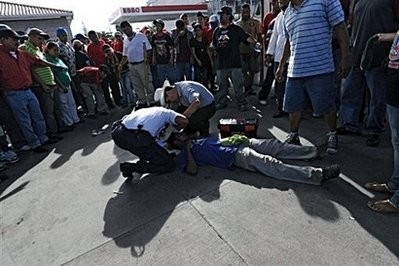 A supporter of Honduran President Manuel Zelaya lies dead on the ground after being shot by Honduran soldiers outside Toncontin international airport in Tegucigalpa.
At least half a dozen military vehicles blocked the only runway at the airport in Tegucigalpa, while tens of thousands of his supporters demonstrated outside.