Solomon Islands Prime Minister Manasseh Sogavare was ousted in a vote of no confidence Thursday, and the opposition said it expected to have a new government installed by Christmas.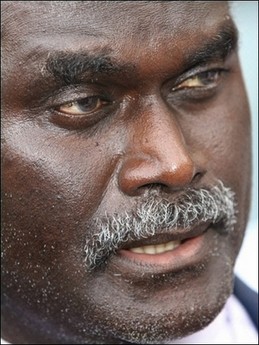 Solomon Islands Prime Minister Manasseh Sogavare (Photo: AFP)
Sogavare, who had tried to delay the motion through legal action, said he accepted "with humility" the 25-22 vote against him.

"Parliament voted me in and parliament voted me out," Sogavare said as he crossed the floor and shook hands with the opposition front bench.

The no-confidence motion was moved by former Education Minister Derek Sikua who criticized Sogavare for putting international relationships in jeopardy and his protection of controversial attorney-general, Julian Moti.

Sogavare has been in a long-running confrontation with Australia since he expelled the Australian ambassador last year and Canberra tried to extradite Moti on child sex charges.

In October, Sogavare boycotted the Pacific Islands Forum of leaders from 16 regional nations over his opposition to Australian dominance of the Regional Assistance Mission to Solomon Islands (RAMSI), which is formally under the forum's control.

RAMSI started as an Australian-led armed intervention in 2003 to end five years of bloody ethnic strife in the impoverished Solomon Islands.

MPs from both sides of the House hugged each other as they left the debating chamber.

Security had been beefed up across Honiara ahead of the vote, with police and military personnel deployed at key locations, but there was no immediate negative reaction to the downfall of Sogavare which had been widely expected.

Before the vote, the prime minister was offered the chance to resign but refused.

Sogavare had gone to court earlier in the week seeking to delay the parliamentary session when it became obvious his position was tenuous following the defection of nine government ministers.

However, a High Court judge Wednesday dismissed the government challenge to the December 13 vote as "frivolous and vexatious", paving the way for the no confidence motion to go ahead.

Sogavare will act as caretaker prime minister in the Solomon Islands until a new leader is elected.

Opposition leader Fred Fono, who wants a new government in place before Christmas, has already ruled himself out as the next prime minister.

"I'm still young... I have a long way to go," he said before the vote, although he remains a popular public figure.

Sogavare had been in power less than two years, assuming the leadership in April last year after riots forced the resignation of his predecessor, Snyder Rini.