Somalia's embattled government offered an amnesty Tuesday to Islamist rebels still fighting in Mogadishu while the African Union force pressed for 3,000 more troops to secure the capital.
Although the bulk of the Islamist Shebab who controlled around half of Mogadishu pulled out on Saturday, remnant insurgents have clashed with the AU-backed Somali government troops trying to secure the famine-struck city.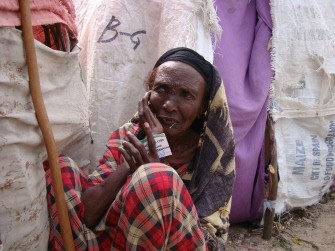 Turkana women sit as they eat wild fruits in Kalokutanyang in northwest Turkana, on August 9, 2011
The government "offered a general amnesty to insurgent fighters remaining in Mogadishu who give themselves up and renounce violence," it said in a statement.
"We offer an amnesty -- put down your weapons and your guns, and come and join the people and your society," government spokesman Abdirahman Osman said.
Major General Fred Mugisha, the Ugandan commander of the AU troops protecting the Somali government, called for an urgent deployment of 3,000 soldiers to boost security in Mogadishu after the Shebab pulled out.
"Our forces now have to cover a much larger area of the city and we risk being overstretched," Mugisha said in a statement.
His request is in line with a UN Security Council resolution adopted last December that authorised boosting the AU force in Somalia, currently numbering 9,000, to 12,000.
"We need to move quickly if we are to help expand government administration and help Somalis. History will judge us for the lives we protect not those we destroy," Mugisha added.
Around 100,000 Somalis who have to Mogadishu from other parts of the country due to a severe drought are facing famine, and aid groups are struggling to provide emergency supplies.
The Al-Qaeda-affiliated Shebab rebels said their withdrawal from the war-wracked capital rwas a change of military tactics.
But much of southern and central Somalia remains under their control. Analysts say internal wrangles, losses in the fighting for Mogadishu and a possible change of military strategy explained the withdrawal.
The UN Office for the Coordination of Humanitarian Affairs (OCHA) said it was assessing how the rebel withdrawal would open aid group access to the city.
"Although it is too early to know what the impact on the overall situation is, humanitarian actors are assessing the ability to operate and/or scale up activities," it said in a statement Tuesday.
Somalia has been badly affected by the current drought that has left some 12 million people in the Horn of Africa in danger of starvation.
The Food and Agricultural Organisation on Tuesday called a ministerial meeting for August 18 on the region's worst drought in decades which has also hit parts of Ethiopia, Djibouti, Kenya and Uganda.
The agency said it needed an extra 103 million dollars (72 million euros) in donations for its local projects and called for "immediate, generous and effective lifesaving and livelihood support."
The United Nations has officially declared famine in Somalia for the first time this century, including in Mogadishu and four southern Somali regions.
"Famine... is expected to spread across all regions of the south in the coming four to six weeks," OCHA warned. "Cases of acute watery diarrhoea are increasing across Somalia."
Most of the regions declared to be in famine are still controlled by the Shebab rebels.
The UN's food monitoring unit has described Somalia as facing the most severe humanitarian crisis in the world and Africa's worst food security crisis since the country's 1991-1992 famine.
In Mogadishu, the AU troops and government soldiers reinforced their hold over former rebel positions in an effort to allow more aid into the war-torn capital.
"The extremists have been preventing the provision of food to hungry Somalis and this has opened up the opportunity to help many more people," said Boubacar Gaoussou Diarra, the AU special representative to Somalia said late Monday.
AMISOM however warned people intending to return to former Shebab-controlled areas of the "high possibility" of "roadside bombs and pockets of remaining extremist fighters," Diarra said.
The AU force, first deployed in Mogadishu in 2007, comprises troops from Uganda and Burundi who have prevented Shebab from taking over the Somali capital capital.