KUALA LUMPUR, April 26, 2010 (AFP) - Heavily armed pirates attacked four ships off Somalia at the weekend, including a Japanese oil tanker and a Malaysian chemical tanker, a maritime watchdog said Monday.
The Japanese very large crude carrier (VLCC), a Malaysian and a Yemeni chemical tanker and an Indian bulk carrier all escaped the pirates after taking evasive manoeuvres, the International Maritime Bureau (IMB) said.
"Four vessels were attacked on April 25 (Sunday). All four managed to escape due to crew vigilance," Noel Choong, head of the IMB's piracy reporting centre in Kuala Lumpur told AFP.
"However, the pirates may still be active in the area, looking for other vessels to attack and hijack," he said.
Choong said the first attack occurred off Suqutra island in the Arabian Sea off Somalia.
Four pirates armed with machine guns and a rocket-propelled grenade (RPG) in a white-coloured skiff chased and fired at the Japanse tanker in an attempt to hijack the vessel, about the size of a football field, he said.
"Pirates fired an RPG at the accommodation area in an attempt to board the tanker using a steel ladder," Choong said.
Choong said the pirates gave up after several attempts to hijack the tanker after the vessel, which was heading to Japan, increased speed and took evasive measures.
In the second incident in the same location an hour later, six pirates attacked a Malaysian chemical tanker.
"The pirates tried to board the ship but the ship took evasive action," the IMB official said.
Choong said Somali pirates also attacked an Indian bulk carrier and a Yemeni chemical ship in the southern Red Sea, near the Gulf of Aden.
Since January 2010 Somali pirates have launched 65 attacks on vessels in the area. The pirates have hijacked 17 ships and are now holding 16 vessels and 326 crews of different nationalities.
The end of the winter monsoon in the region has spurred a fresh spate of attacks by pirates able to venture hundreds of miles (kilometres) from their bases and approach their prey on relatively calm seas.
Equipped with AK-47s, GPS navigation and satellite phones, pirates raked in an estimated 60 million dollars in ransoms last year.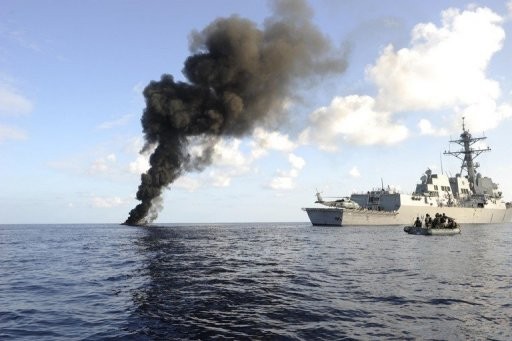 (AFP photo) The Farragut is the flagship of a task force established in 2009 to counter piracy in the Gulf of Aden and off Somalia.