Somali pirates built up their defences around a captured Saudi Arabian super-tanker Friday after demanding a 25 million dollar ransom.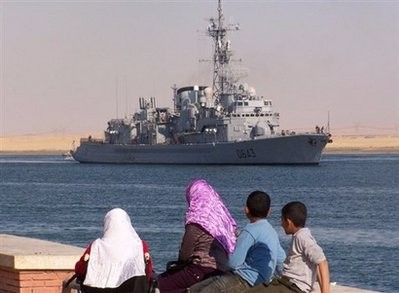 Egyptians look at French navy helicopter carrier Jean de Vienne as it transits the Suez canal in the port city of Suez, 100 kms southeast of Cairo. Somali pirates built up their defences around a captured Saudi Arabian super-tanker Friday after demanding a 25 million dollar ransom.(AFP)
As foreign navies sent warships to Somalia's dangerous waters and shipping companies sought alternative routes, extra clan militia and other fighters were brought in at the pirate lair of Harardhere, residents said.
"Some of them are inside the town and others are taking shelter in a nearby village and can be called if need be," local resident Mohamed Awale told AFP. He said the fighters had come from neighbouring Gulgudud and Mudug regions.
Local militia and hardline Shebab fighters also arrived in Harardhere in what some residents said was a move to position themselves for a share of any ransom paid.
"There are two armed vehicles belonging to al Shebab. They have reached the town of Harardhere but there are no intentions of attacking the ship from here," a Harardhere Islamist official told AFP by phone.
"There are many militiamen who have arrived in the town and they want to get a share from the pirates if the ransom is paid," said Ahmed Abdullahi, a local elder.
The Sirius Star, the biggest ship ever hijacked, and its 100 million dollar load of oil was seized last Saturday and taken to Harardhere, 300 kilometres (180 miles) north of lawless Somalia's capital Mogadishu.
The pirates on Thursday gave the owners 10 days to pay a 25 million dollar ransom, said a pirate who identified himself as Mohamed Said, threatening "disastrous" consequences if Vela International, shipping arm of the Saudi oil giant Saudi Aramco, fail to comply.
"The Saudis have 10 days to comply, otherwise we will take action that could be disastrous," he said.
He did not specify the threatened action but the 330-metre (1,000-foot) long tanker is carrying two million barrels of crude oil.
Environmental groups have warned of a huge catastrophe if oil from the super-tanker was released.
Some experts have told AFP that the MV Faina, a Ukrainian ship seized by the same pirates in September with a cargo of tanks and other weaponry, was booby-trapped by the hijackers.
With close to 100 attacks on ships in the Gulf of Aden and Indian Ocean this year, the pirates now pose a growing threat to international trade.
Pirates with no confirmed links to bigger organisations and relatively modest means have seized ships of all sizes and in an ever-growing area.
Two speedboats with pirates armed with Kalashnikov rifles and rocket-launchers seized the Saudi tanker in 16 minutes on Saturday, according to a military report obtained by AFP.
The United States said it would seek support at the United Nations for a resolution to tighten international measures against Somali pirates.
Saudi Foreign Minister Prince Saud al-Faisal said he was opposed to any negotiations with pirates.
"Like terrorism, it is an evil that has to be eradicated," Prince Saud told reporters in Oslo.
Kenyan Foreign Minister Moses Wetangula said Somali pirates had been paid 150 million dollars in ransom over the past 12 months, adding that this was fueling a global criminal enterprise.
"We are advised that in the last 12 months, ransom to the excess of 150 million dollars has been paid to these criminals and that is why they are becoming more and more audacious in their activities," Wetangula said.
The Indian frigate INS Tabar, one of dozens of warships from several countries protecting commercial shipping lanes in the Gulf of Aden, sank a Somali pirate ship Tuesday after coming under fire.
Russia announced it would send more warships to combat piracy and also called for an international ground military operation to crush piracy.
Meanwhile, pirates on Friday freed Greek-owned MV Genius chemical tanker and its 19 Romanian crew hijacked on September 25, a Kenyan maritime official said.
After the International Maritime Bureau (IMB) said the pirates were now "out of control," Arab nations bordering the Red Sea meting in Cairo on Thursday and pledged cooperation to end the threat -- but offered few specifics.
Oslo-based Frontline Ltd, the world's biggest oil tanker company, said that a more aggressive military approach was needed.
Other maritime groups have decided to steer clear of Somalia's treacherous waters by diverting ships to the Cape of Good Hope, despite the extra delays and costs.