A U.S. warship arrived in Somali waters on Thursday to assist in freeing a captain seized by Somali pirates after a hijack attempt failed when the ship's unarmed crew fought back, RIA-Novosti reported.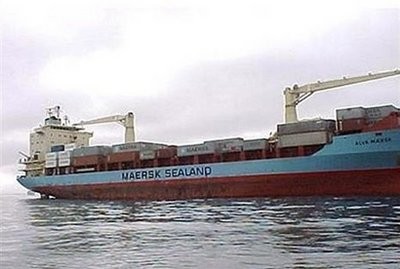 Undated handout picture of the Maersk Alabama container ship which was hijacked by Somali pirates.(AFP Photo)
Somali pirates hijacked the Maersk Alabama off the Horn of Africa on Wednesday, but in a dramatic struggle the 20-member crew managed to recapture the vessel, taking a pirate hostage. No one was injured.
Second Mate Ken Quinn told U.S. media that the crew tied the pirate up, and held him for 12 hours during negotiations for the release of the ship. After reaching a deal, the sailors let the man go, but the pirates then took Captain Richard Phillips before fleeing in a lifeboat.
The owner of the U.S.-flagged Danish freighter, Maersk Line Ltd, said that U.S. Navy destroyer Bainbridge arrived at the scene early on Thursday. The company said it is in contact with both the crew and the Navy, but declined to say what course of action is being planned.
A foreign policy adviser to U.S. President Barack Obama, Denis McDonough, told reporters that the president is closely following the situation.
According to the International Maritime Bureau, Somali pirates have carried out 66 attacks on foreign vessels since January, and are currently holding 14 ships and a total of 260 crew hostage.
The East African country, ravaged by years of civil war, has no functioning government.