KAMPALA, July 13, 2010 (AFP) - Somalia's Al-Qaeda-inspired Shebab rebels have claimed responsibility for bombings in Uganda that killed 74 people as they watched the World Cup final, in the region's worst attacks in 12 years.
The twin bombings in the Ugandan capital dampened Africa's World Cup euphoria and drew global condemnation. The attacks also marked an unprecedented internationalisation of Somalia's two-decade-old civil war.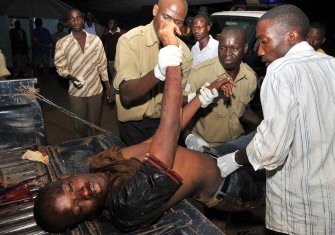 People carry an injured man in Kampala's Mulago hospital, on July 12, 2010 after twin bomb blasts. AFP
"We are behind the attack because we are at war with them," Ali Mohamoud Rage, the Shebab group's spokesman, told reporters in Mogadishu on Monday.
The movement's top leader had warned in an audio message earlier this month that Uganda and Burundi would face retaliation for contributing to an African Union force supporting the western-backed Somali transitional government.
Explosions ripped through a sports bar and an Ethiopian restaurant in Kampala where people had gathered to watch the football World Cup final between Spain and the Netherlands.
The government said at least 74 people had died in the bombings, the worst attacks in East Africa since Al-Qaeda targetted the US embassies in Kenya and Tanzania in 1998.
Police Chief Kale Kayihura said an Irish woman was among the dead and two unclaimed bodies were "of interest" to the security services.
Kayihura said there were three explosions from one planted device and possibly two suspected suicide bombs. He said arrests had been made but he gave no details.
A US embassy spokeswoman confirmed one American was among the dead and an AFP correspondent saw at least three wounded US citizens at the city's main Mulago hospital.
Uganda and Burundi provide troops to the African Union mission in Somalia (AMISOM) which is fighting daily battles against the Shebab in Mogadishu in a desperate effort to prop up the government.
The Shebab accuse AMISOM of killing civilians during its operations around the tiny perimeter housing President Sharif Sheikh Ahmed's embattled administration.
"We will continue the attacks if they continue to kill our people," Rage said. "This was a defensive measure against the Ugandans who came to our country and killed our people. This was retaliation for their actions."
The Ugandans were the first to deploy to Somalia in early 2007 and form the backbone of AMISOM, which is the last rampart preventing the Shebab from claiming complete control of Mogadishu.
Ugandan officials insisted Monday that a July 19-27 African Union summit would go ahead as planned and that troops would not be withdrawn from Mogadishu.
The Kampala bombings -- the deadliest in Shebab's history and the first attacks they have perpetrated outside Somalia -- drew condemnation from around the world.
The UN Security Council condemned "in the strongest terms the terrorist attacks" and said "perpetrators, organizers, financiers and sponsors of these reprehensible acts of terrorism (must be brought) to justice."
US President Barack Obama "is deeply saddened by the loss of life resulting from these deplorable and cowardly attacks," US National Security Council spokesman Mike Hammer said.
Obama called Ugandan President Yoweri Museveni and offered his country's assistance while Interpol also announced it would send a team to Kampala.