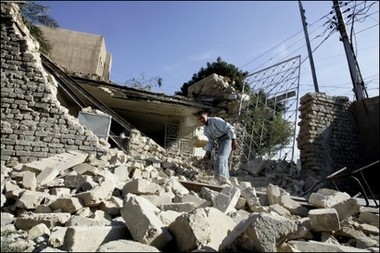 Rubble at the entrance of a destroyed Shiite mosque in Baghdad's Karrada neigborhood, which was targeted by a mortar attack (AFP Photo)
Some leading US media have decided to call the violence raging in Iraq a "civil war," despite White House insistence that the strife has not reached that stage.
NBC News became the latest news organization to decide to use the term on Monday, saying the violence between Shiite and Sunni Muslims combined with the government's inability to quell the strife fit the definition of civil war.
Matt Lauer, the presenter of NBC's "Today" morning show, said the network had thought carefully whether civil war was an appropriate phrase for the violence plaguing Iraq.
"We should mention we didn't wake up on a Monday morning and say,'Let's call this a civil war'," Lauer said. "This took careful deliberation. We consulted with a lot of people."
Lauer and retired US general Barry McCaffrey, an NBC News military analyst, said a civil war opposes at least two sides using violence toward political ends in a country whose government cannot stop the conflict.
"There can be no more doubt that Iraq is in a civil war, in which leaders of both its main communities, Sunnis and Shiites, are fomenting violence," wrote Newsweek International editor Fareed Zakaria.
Editor and Publisher, a news industry publication, described the decision by some US media to use civil war as a "turning point."
"Apparently the utter chaos and carnage of the past week has finally convinced some to use 'civil war' without apology," the magazine said.
A fresh outbreak of violence left dozens dead in Iraq Monday, four days after more than 200 people were killed in an bombing in Baghdad's Shiite district of Sadr City.
The New York Times decided to use the phrase "civil war" after previously saying Iraq was "on the brink" of civil war, while the Los Angeles Times no longer uses quotation marks for the term.
"In the United States, the debate over the term rages because many politicians, especially those who support the war, believe there would be domestic political implications to declaring it a civil war," the influential daily said Sunday.
"They fear that an acknowledgement by the White House and its allies would be seen as an admission of a failure of President Bush's Iraq policy," it said.
But New York Times executive editor Bill Keller said Monday the daily would use the term judiciously.
"We expect to use the phrase sparingly and carefully, not to the exclusion of other formulations," Keller said in a statement.
The White House has repeatedly rejected the term civil war to define the violence in Iraq.
"What you do have is sectarian violence that seems to be less aimed at gaining full control over an area than expressing differences, and also trying to destabilize a democracy -- which is different than a civil war, where two sides are clashing for territory and supremacy," White House spokesman Tony Snow said Monday.