TOKYO, March 24, 2010 (AFP) - Thousands of football fans in Africa will see HIV/AIDS awareness messages on giant Sony screens during the World Cup under a collaboration announced Wednesday.
The messages will be broadcast between games shown on 200-inch (five metre) screens before fans in Cameroon and Ghana, according to Sony, the UN Development Programme and the Japan International Cooperation Agency.
"Today many African countries are facing social and economic challenges," Sony chief executive Howard Stringer said. "The first World Cup to be held on African soil is also a great opportunity to showcase the power of Africa."
The three partners will set up the giant screens in 12 cities in Cameroon and Ghana, which have both qualified for the World Cup in South Africa, with a total of 13,000 people expected at the viewing sites.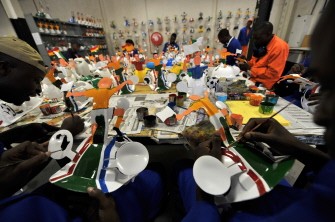 A picture taken on March 4, 2010 shows employees preparing a football player on a hardhat known as Makarapas in Johannesburg. AFP photo
Sony's social responsibility chief Hidemi Tomita said most African children, "even if their national teams play in the games, won't be able to experience the event due to low rates of household TV penetration".
A lack of information and media access are among reasons for the high rates of HIV/AIDS in sub-Saharan Africa, where about 22 million people carry the virus out of the global total of 33.4 million, according to the UNDP.
Project organisers expect at least 1,800 people to take free HIV tests to be offered at the screening sites. They gave no further details on the contents of the HIV/AIDS messages.