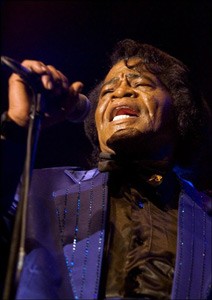 US Singer James Brown performs on stage in Copenhagen in July 2006 (AFP Photo)
US Singer James Brown, known as the "godfather of soul", has died in the southern city of Atlanta at the age of 73, US media reported early Monday.
The reports said he had checked in with pneumonia late Sunday into Emory Crawford Long Hospital, but hospital officials contacted early Monday declined to confirm or deny the accounts.
Brown began his professional music career in 1953 and achieved fame in the late 1950s and early 1960s after captivating the public by his live performances and a number of recorded hit songs.
The 1960s was the period of Brown's greatest popular success.
Two of his tunes, "Papa's Got a Brand New Bag" and "I Got You (I Feel Good)," hit the Top 10 pop lists, remaining the top-selling single in black venues for over a month apiece.
His national profile was further boosted that year by appearances in the films "Ski Party" and the concert film "The T.A.M.I. Show."
Source: AFP