PRETORIA, April 5, 2011 (AFP) - South Africa is "deeply concerned" by the violence in Ivory Coast, after UN and French helicopters attacked the presidency and military bases in Abidjan, the foreign minister said Tuesday.
"South Africa is deeply concerned by the deteriorating security and humanitarian situation in Cote d'Ivoire," foreign minister Maite Nkoana-Mashabane told journalists.
"I don't remember giving any mandate to anyone for an aerial bombardment in Cote d'Ivoire. We would not necessarily support that which we have not voted for," she said.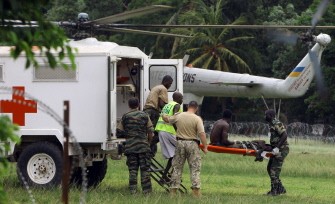 AFP - An injured soldier from internationally recognised leader Alassane Ouattara's FRCI (Republican Forces of Côte d'Ivoire) forces is carried as he arrives at the Golf Hotel in Abidjan on April 3, 2011.
Nkoana-Mashabane said the west African bloc ECOWAS, the African Union and the United Nations "should persist in their quest to find a peaceful political solution to the situation in Cote d'Ivoire, which is now rapidly sliding back into a civil war."
French and UN helicopters on Monday targeted the presidency, self-declared president Laurent Gbagbo's residence and military barracks in the main city Abidjan, a UN official said.
The attacks came hours after fighters for UN-recognised president Alassane Ouattara launched a new offensive on the city after a months-long election dispute.