South Africans went to the polls in general elections all but certain to propel the ruling ANC party's controversial leader Jacob Zuma to the presidency.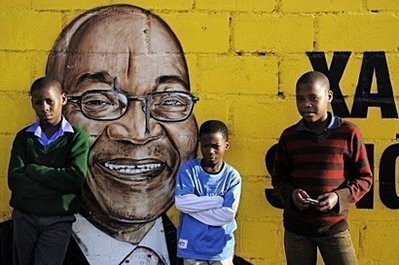 South African boys pose beside a wall with a painting of ANC (African National Congress) leader Jacob Zuma, in Guguletu township on the outskirts of Cape Town. (AFP Photo)
Lines formed early outside voting stations with a record more than 23 million South Africans registered to cast ballots.
"Most of the voting stations have opened. Where there are problems we are dealing with them," Independent Electoral Commission spokeswoman Kate Bapela told AFP.
First-time voter Portia Ntshali, 18, cast her ballot in Alexandra township on Wednesday and wants the incoming government to tackle crime, build houses and create jobs.
"It was great to be voting for the first time," said the Grade 12 pupil. "I'm voting because I want to experience how it feels. I'm also voting because I want to be heard."
Some voters queued with chairs and mugs of coffee, others wrapped in blankets, while waiting for the country's nearly 20,000 polling stations to open at 0500 GMT for 14 hours of voting.
"I came here at 12 midnight because I wanted to be the first in line so that I can go back home and listen to the radio to see how the party I voted for is doing," said Ntombi Mthetho, 46.
The African National Congress is expected to easily sweep the polls, making Zuma a shoo-in for president when the new parliament meets in early May to elect a head of state.
Corruption charges were dropped against the ANC leader just two weeks ago but the scandal has done little to dent the popularity of a party still revered for leading the fight against apartheid.
Zuma has campaigned on promises to extend the gains of South Africa's democratic transition to the millions of people still living in poverty -- a task made all the more challenging by a recent slide toward recession.
The 67-year-old son of a housekeeper was a stalwart of the struggle against white minority rule, and spent a decade jailed alongside Nelson Mandela on Robben Island.
After the first democratic elections in 1994, he rose through the party ranks to become the deputy to former president Thabo Mbeki. But the two developed a fierce rivalry, and Mbeki sacked him in 2005.
Boosted by support from the rural poor, Zuma seized the leadership of the ANC away from Mbeki in 2007. Under the new stewardship, the party took less than a year to sack Mbeki as president.
Mbeki loyalists broke away from the party to form the new Congress of the People (COPE), which is contesting the elections along with the existing opposition Democratic Alliance and a host of smaller parties.
Polls tip the ANC to win at least 60 percent of the vote, with COPE and the DA earning about 10 percent each.
Zuma's rivals have seized upon the corruption scandal to warn that his government would be unable to crack down on graft or the alarming crime rate in a country where 50 murders are committed every day.
Prosecutors did little to dispel the corruption claims that have dogged Zuma for years, saying they remained confident they could convict him but were dropping the case because of political meddling by top investigators.
Zuma on Tuesday again denied any lingering cloud of doubt around him, and he has campaigned on promises to clean up government and improve public services.
After nine years under an aloof Mbeki, Zuma has struck a chord among many South Africans for his open embrace of traditional culture and a charisma that gives him an intuitive rapport with others.
For the 43 percent of South Africa's 48 million people living on less than two dollars a day, many see themselves in the rise of a self-educated former herdboy to top of the nation.