President Thabo Mbeki is set to respond to growing public unrest by acknowledging his government needs to do more to tackle South Africa's rampant crime rate in his state of the union address.
In the eight years since becoming president, Mbeki has cemented the country's position as Africa's economic powerhouse and forged an increasingly high-profile position on the international stage.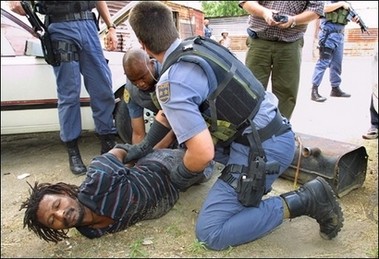 South African policemen wrestle a suspect to the ground after raiding two houses in Mooinooi, in South Africa's North West province
He still enjoys relatively high poll ratings and his ruling African National Congress party faces no serious challenge to the grip on power that it has held since the end of apartheid 13 years ago.
But while he will use his annual address at parliament in Cape Town, set to start at 0900 GMT, to proclaim South Africa is living through an "age of hope", he is unlikely to duck a growing perception that crime is at crisis point.
Around 50 people are murdered every day while more than half a million burglaries or robberies were reported last year.
Mbeki recently insisted most citizens do not feel crime is out of control but official sources said one could expect some "self-criticism" from the president who would "not ignore the reality of perceptions" about security.
Veteran political commentator Max du Preez said the government had been undermined by its reluctance to downplay the seriousness of the situation.
"The government's denial of the scale of the problem has seriously dented its credibility among the citizens -- all the way into the heart of the ruling party structures," he wrote in Johannesburg's The Star daily.
There are increasing signs as well that big business, previously keen to stay onside with Mbeki, are running out of patience over the crime situation.
A mass newspaper advertising campaign by one of the country's big four banks, which would have urged Mbeki to do more to tackle crime in his speech, was pulled at the last moment after pressure from the government and fellow heads of industry.
Mbeki is also expected to deliver a stout defence of his economic record, especially since his re-election for a second and final five-year term in 2004.
He will in particular point to an average growth rate of 4.5 percent in the last three years as well as big increases in private and public investment.
The government also proclaims that around half a million jobs have been created every year since his re-election but the jobless rate is still estimated to be as high as 40 percent.
Despite the emergence of a black middle class in the 13 years since the end of apartheid, millions of households are still living in abject poverty and the wealth gap between the average white and black family is still a major bone of contention.
"For South Africans living in communities wracked by under-development, the country's much-vaunted 'sound economic indicators' do not mean much," said Karima Brown, political editor of Business Day.
The speech is also likely to see Mbeki flesh out some of his foreign policy goals in the coming two years after South Africa took up a non-permanent seat on the United Nations Security Council.