South Korea called for better relations with Japan Wednesday but urged its leaders to work harder to settle disputes arising from the bitter 20th-century colonial era.
President Lee Myung-Bak made the call after a summit with Japan's new Prime Minister Yoshihiko Noda, in which they agreed to try to restart free trade talks and to expand a currency swap deal to stabilise financial markets.
Lee said he and Noda agree that close relations are important for both countries and for regional peace and prosperity.
"While mentioning that moving toward the future without forgetting history is the basis for Korea-Japan relations, I emphasised that Japan needs to make active efforts over issues stemming from" colonial rule, Yonhap news agency quoted him as saying.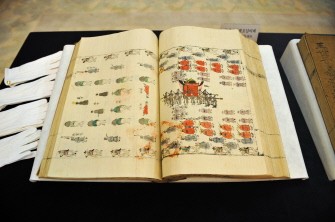 One of South Korea's ancient royal documents taken by Japan during the 1910-45 colonial rule and returned by Japanese Prime Minister Yoshihiko Noda is pictured during his visit to Seoul on October 19, 2011.
Relations remain prickly because of disputes that have lingered since Japan's harsh 1910-45 colonial rule.
A row over disputed islands in the Sea of Japan (East Sea) -- known as Dokdo in Korea and Takeshima in Japan -- flared again in June when flag carrier Korean Air mounted a test flight over them.
Three conservative Japanese lawmakers who planned a trip near the islands to reassert their country's claim were barred from South Korea in August.
The same month the South lodged a strong protest against Japan's 2011 defence white paper, which describes the islands as Japanese territory.
Seoul also complains that its neighbour's school textbooks distort their shared history. And it wants to discuss compensation for Japan's use of Korean women as military sex slaves during World War II.
Japan says all colonial issues were settled in a 1965 compensation deal that led to the normalisation of relations.
Lee told a press conference the two countries would strengthen working-level discussions on a possible free trade agreement.
Japan has long pressed to reopen negotiations in limbo since 2004, especially in light of Seoul's sweeping agreements with the United States and the European Union.
Lee said the two countries would expand their currency swap arrangement to $70 billion from $13 billion currently in an attempt to guard against growing global uncertainty.
On North Korea, the two nations also largely see eye-to-eye.
The leaders said that ending the North's nuclear programmes is crucial for peace and stability on the Korean peninsula and in Northeast Asia, and agreed to continue to work closely to achieve that.
The two countries are members -- with China, the North, the United States and Russia -- of a six-party forum that began meeting in 2003 to negotiate Pyongyang's nuclear disarmament.
The North now wants to return to the talks it abandoned in April 2009, a month before staging its second nuclear test. South Korea, Japan and the United States say it must first show it is serious about scrapping its atomic arsenal.
Noda sweetened the mood for his first bilateral diplomatic trip by returning five volumes of historic royal Korean books seized during the colonial era. By December Japan is to return the remaining 1,200 volumes,