South Korean President Lee Myung-bak said on Monday he was open to dialogue with Pyongyang, as the U.S. envoy for North Korea prepared to travel to the region to discuss how to reduce tensions.
Both Koreas have recently signaled a greater willingness for talks after a year of confrontation that included the sinking of a South Korean warship in March, killing 46 sailors, a deadly exchange of artillery fire in November, and threats of war that rattled financial markets.
In a New Year address televised nationally which also covered his economic and social policy plan for the year, Lee repeated a warning that Pyongyang will be dealt a "stern and strong" blow if it chooses to mount another attack on the South.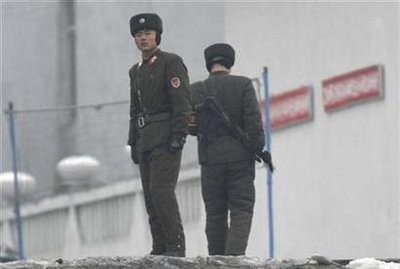 Armed North Korean soldiers stand guard on the banks of Yalu River near the North Korean town of Sinuiju, opposite the Chinese border city of Dandong, December 21, 2010
The comments came two days after the North called for an end to confrontation with the South, urging dialogue after one of the most violent years on the divided peninsula since the 1950-53 Korean War.
"I remind the North that the path to peace is still open. The door for dialogue is still open," Lee said. But he warned: "We cannot let North Korea covet even an inch of our territory...
"Any provocation that would pose a threat to our lives and property will not be tolerated."
Although Seoul has said dialogue must be preceded by actions from Pyongyang that show it is serious about reducing tensions, momentum seems to be building for a possible resumption of talks.
"In what is a sharp contrast to before, it is South Korea, along with Japan, that's the most skeptical about the six-way process," said Baek Seung-joo of the Korea Institute for Defense Analyses. "But the government recognizes that the only realistic channel of dialogue with the North is the six-party talks."
U.S. ENVOY TO VISIT ASIA
North Korea has said it is willing to return to six-way nuclear disarmament talks, which had been stalled for more than two years after Pyongyang rejected inspections of its atomic facilities.
Regional powers have been working on a proposal on how to proceed with the stalled six-way process. South Korea has said it wants the talks to move quickly to getting Pyongyang to abandon its nuclear program.
Washington and Seoul have said they want North Korea to show it is committed to disarming before six-party talks can restart.
The U.S. envoy responsible for policy toward North Korea, Stephen Bosworth, will visit Seoul on Tuesday to discuss the next steps on the Korean peninsula, the State Department said.
He will then visit China and Japan this week for further consultations on the North. The U.S. envoy for nuclear talks with the North, Sung Kim, will accompany him to Seoul and Beijing.
Bosworth's visit to the region could mark a turning point in the effort to restart a diplomatic process involving the North which will be highlighted by Chinese President Hu Jintao's visit to Washington this month to meet President Barack Obama, Baek said.
Destitute and isolated North Korea walked away from six-party talks two years ago, calling the process dead because of what it said was a U.S. intention to destroy its regime.