South Korean President Park Geun-Hye was fired by the country's top court on Friday, as it upheld her impeachment by parliament over a wide-ranging corruption scandal, source from Vietnamnews.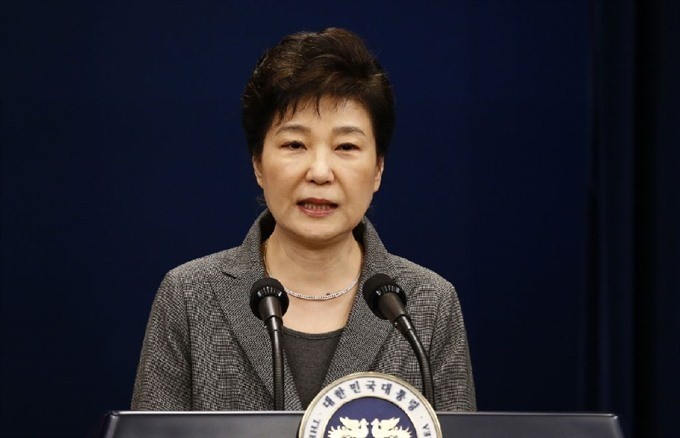 South Korean President Park Geun-Hye is fired by the country's top court, losing her executive immunity from prosecution. — AFP/VNA Photo
It also means Park, the country's first female president, also becomes its first leader to be removed by impeachment. She is obliged to leave the Blue House and loses her executive immunity from prosecution.
Park's actions "seriously impaired the spirit of representative democracy and the rule of law," constitutional court chief justice Lee Jung-Mi said.
"President Park Geun-Hye... has been dismissed."
Rival groups of supporters and opponents watched as the verdict was read out live on television.
Park was found to have broken the law by allowing her friend Choi Soon-Sil to meddle in state affairs, and breached rules on public servants' activities.
"Park's breaching of the constitution and the laws betrayed the trust of the people," said Lee, describing her actions as "a serious and unacceptable violation of the laws".
The president "completely concealed Choi's meddling in state affairs and denied it whenever suspicions over the act emerged and even criticised those who raised the suspicions."
One of Park's lawyers expressed "strong regrets" over the verdict.
But Kwon Seong-Dong, a lawmaker and a member of the parliamentary indictment committee, said the verdict confirmed "the rule of law that all people including the president are equal in front of the law".
Park was impeached by parliament in December on charges including bribery and abuse of power, and the Constitutional Court, which under South Korean law had the final say, upheld the decision on Friday.
A heavy police presence was deployed in the streets around the building, where thousands of supporters and opponents gathered amid rising tensions ahead of the verdict.
An overwhelming majority of South Koreans -- around 77 per cent -- supported Park's removal in opinion polls.
She repeatedly apologised for the impact of the scandal, but rejected all allegations of wrongdoing when she submitted a written statement to the court's last hearing in February.
"I've never sought private gains or abused power as president... I plead with the court to make a wise decision," she said.
Her confidante Choi Soon-Sil, the woman at the centre of the scandal, is already on trial.
The presidential election is expected to be held on May 9. The front-runner is Moon Jae-In, former leader of the opposition Democratic Party, who had the support of 36.1 percent in a Realmeter poll released on Thursday.